Our club kit is organised by Will & Jo Ravenhill. They can be contacted on any of the below:
Will Ravenhill     willravenhill4@gmail.com
Jo Ravenhill     joannaravenhill@gmail.com
Club Vests
You will need to wear a club vest at races if you are representing the club and obtaining the entry fee discount. The cost of our club vests is subsidised by the club.
Our *new* club vests cost just £15 each.
Vests are available in the following sizes:
Men's vest: S – XXL
Ladies vest: S – XL  (available in standard back and racer back designs)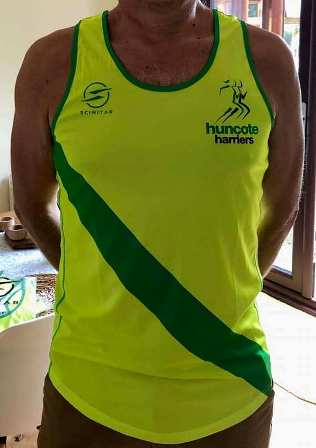 Online Club Kit Store
The Harriers online kit shop is now open! Yes, it's true all you need to do is follow the link www.viga.co.uk/collections/huncote-harriers which will take you through to the Huncote Harriers online kit shop courtesy of Viga sports. They have been producing quality athletic garments for decades and, thanks to Keith at Viga we now have our own online store!
You'll see an exciting new range of garments that are available. Simply order the items that you want in the sizes that you want, make your online payment to Viga and your items will be delivered straight to your door!
There's also a facility to personalise any item with your name or initials at a cost of £3.95 per item.
If you explore the wider Viga site, you'll see that there are plenty of other garments available, that aren't yet showing on the Harriers store. This is because we just wanted to set up some core items.Depending on demand, we can add more garments and colours to the store. Just let Will or Jo know what you'd like to see.
It will be great to get your feedback with regard to the store so please get ordering and let us know what you think!