Paul McKay, aka Paul Twister on Facebook, seems like a fairly ordinary bloke. However, he has set himself an amazing challenge. His story unfolds below. (I doubted his sanity until I read, and re-read, race 32. Now I have no doubt)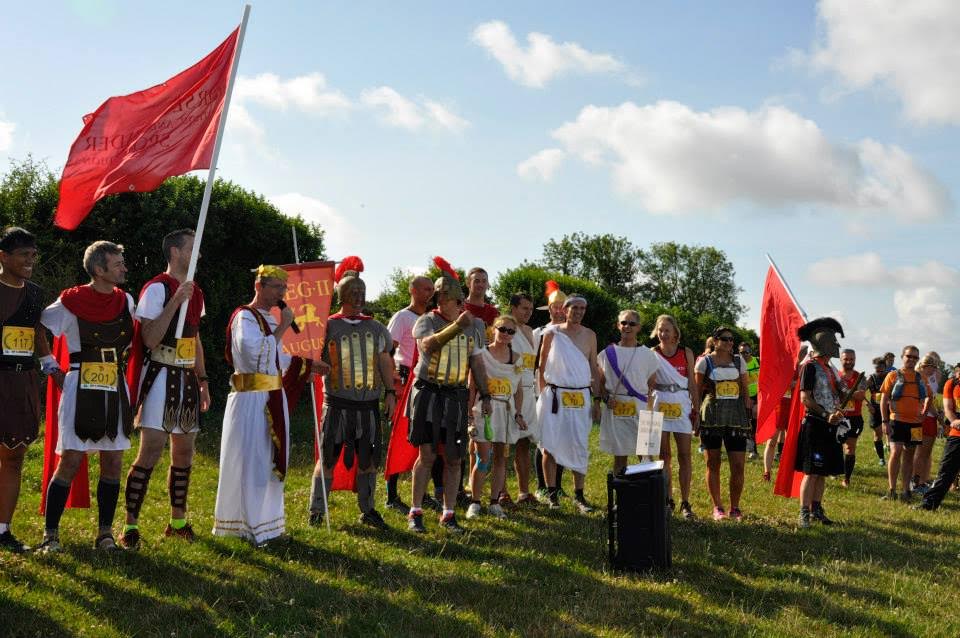 91 to 100 - The final furlong
100: A Century As A Centurion 
It seemed quite fitting to complete my 100th marathon as a Centurion. Nick ran his 79th as St George and came in for a dogs dinner of good humoured abuse.
The setting was the stunning seaside town of Tenby for the Wales Marathon.
The organisers were great and announced at the start that I was running my 100th marathon to great applause.
There was about 900 runners and most wished me well at some point during the day.
Before the start I met one of the foundering members of the 100 Club who told me that most runners had to run marathons overseas as there were very few in the UK. In contrast there's at least one every weekend in the UK.
The route was totally traffic free and the views across the Welsh countryside was amazing. The highlights were running close to the sea and going past two stunning castles.
At every check point or water station the Marshals cheered & congratulated me. At the half way point there were high fives all round as the PA announcer welcomed me in.
The Welsh public also provided lots of unofficial water points and gave St George lots of abuse!
At mile 20 we stopped for the customary ice cream which the shop owner gave me for nothing.
The marathon was part of the "Long Weekend" where some athletes completed a 2.5 mile swim on Friday, a 120 mile bike ride on Saturday and then the marathon on Sunday. About 100 people completed a truly amazing achievement.
As we ran into Tenby the traffic was backed up for a mile to the let the runners pass. I ran alongside the cars giving a high five to the drivers.
For the last quarter of a mile you ran along a red carpet before finishing in the town centre. Again the announcer congratulated me on finishing!
Nick had also got me a cake to and had a large banner printed congratulating me and listing all the marathons I've done…a nice touch
One of the best marathons I've done, really well organised and very friendly.
99: "The Flake How Not To Run A Marathon"
First time I've ever done a back to back marathon and without doubt the most eventful and bonkers yet!
The rules of marathon running:
Eat a light breakfast at least 90 minutes before you run. Instead I have a McDonald's Double Sausage & Egg Mcmuffin less than 20 minutes before I started running.
Arrive early to register, stretch and get prepared. Well for some reason I thought it started at

10am

. When we arrived it was quite quiet. After putting on my kit I asked a steward "Where's the start mate?". At first I thought he was joking when he said "It started at

9am

some 25 minutes ago". Fortunately, the organisers were great and let us go. No stretching, breakfast swooshing round and then for the first mile we were running around an industrial site until we picked up a race sign.
My legs were really burning and any hopes of a nice flat race quickly vanished as we were soon climbing the first of many, many hills.
At mile 5 we caught up with the back runners, it was a welcome relief.
At mile 8 I met Gina who has overcome a lot of adversity to have run nearly 50 marathons. She was in a lot of pain with a trapped nerve. To assist her I stopped at a local shop to buy her some paracetamol and then walked with her to mile 9 so she could receive some assistance.
More and more climbs and we caught up with Jo at mile 14. Jo greeted me like a long lost friend. Given I only saw her last Sunday it made me smile. As quick as anything she's got her camera out and she's taking photos.
Jo completed her 100 marathon yesterday and was proudly wearing the 100 Marathon Club shirt with powered by chocolate on the front. For the next 4 miles she told me about her 100th run and her favourite ever marathon only drawing breath to take more selfies. I love Jo, she always makes me smile and is full of energy.
At mile 19 we stop at a pub and much to the amusement of the locals we are ordering a round of drinks. I had a coke but Jo and her mates ordered shorts and Guinness!
It was great sitting outside drinking and cheering runners on. When Nick came passed I made my excuses and left Jo to run a bit with Nick.
Nick was finding the going tough
after also running yesterday and I stayed with him until mile 20.
More climbs and at mile 22 I came across a family sitting outside cheering the runners on. It was too good to resist and i sat down with them and had a chat!
At mile 25 I couldn't believe my eyes…there in the distance was an ice cream van. Pulling in my fastest mile of the day I got there just in time to order a 99!
I don't think the stewards and race officials could quite believe it as I finished eating an ice cream.
460 runners started the race and you got a free massage, tee shirt and medal at the end.
Before setting off home Nick and I ate the Cadbury's flakes he brought, which is a tradition for marathon runners completing there 99th marathon.
The route itself was quite dull as most of it was running around housing estates and all on the pavement which was not ideal.
However, the people I ran with made it a really enjoyable run.
Marathon 99 done and another County completed.
98th Marathon in 39 Counties 
One step closer to completing a marathon in 50 counties after finishing the Hamsterley Trail Marathon in Durham.
About 200 runners set of to complete either a single lap 11 mile race or the 18 mile run. Less than 30 runners were doing the full marathon and after completing one lap it was easy to understand why.
The Hamsterley Marathon was very demanding with a few decent long climbs that zapped the strength out of your legs.
Fortunately the weather was fairly mild and it even rained twice which was quite refreshing.
There were two water stations per lap with plenty of jelly babies. The route was set in the largest forest in Durham. The rivers and trees provided a stunning backdrop for a very well organised club race. The worst part was the large number of flys on two sections on the route.
Most of the runners were from the North East and it was a really friendly race. Saw "Frenche" who was sleeping in someone's car tonight in order to run another marathon in the North East tomorrow. The bloke is a total legend. He's skint but somehow gets himself to the far flung corners of England on public transport and then sleeps rough before catching the bus back in the morning. He's done over 100 ultras  now as well as 100 marathons.
One of his best stories is getting the local police to give him a prison cell to sleep in for the night!
A top race and a medal and bandana when you finished.
97 A Giants Head & A Spinning Willy
The UKs premier award winning marathon as usual sold out quickly and lived up to the high expectations.
Couple of runners were doing their flake run and Carolyn the sweeper her unofficial 100.
There was also an impressive turn out from the 100 Marathon Club on a warm Dorset summers day.
Nick and I polled up in a ostrich costume much to everyone's amusement.
By mile 3 the sweat was pouring of us. With the relentless hills, the midday sun and the sheer weight of the outfit I took it of at mile 18.
Sadly, someone has messed around with the route signage which meant some runners ran an additional 3 miles and others including me were sent wrongly across a field with a herd of frisky cows.
Running as an Ostrich I was a bit concerned what they might think, fortunately they were interested. In contrast every dog seemed to want to chase me or sniff my bum!
As usual the stewards were top draw and the refreshment stations and "Love Station" were well stocked.
Although the route had changed since I last ran the race the best bit was again seeing the Cerne Giant.
As you crossed the line you were presented with a tee-shirt and a bandana. The best memento though was the Cerne Giant medal complete with a spinning willy! Yes a spinning willy, I kid you not!
The longest queue at the end was for Jen's ice cream van selling giant size ice creams. The ice cream van is a popular and regular feature of the Giants Head Marathon and the ice creams are legendary.  Of course I didn't have one, well…maybe a large one!
As you would expect from White Star a cracking race, brilliant organisation and a wonderful atmosphere.
96 Hampshire Hoppit
The inaugural Hampshire Hoppit was an excellent marathon.
Named after a classic local bitter the race sold out quite quickly.
Sadly only 420 runners out of 500 that registered turned up with just over half running the full marathon.
The course was superbly marshalled by 40 enthusiastic marshals. The route was clearly marked with regular water and feed stations.
You knew it was going to be a classic run when we were warned to be careful of the rabbit holes for the first couple of miles.
The first three miles was shared between the half and full marathon runners before splitting.
At the start we headed across a field where racehorses are exercised.  The route then led us through a wood before heading up a local infamous hill. The hill was practically vertical and I found it impossible to run.
At the top everyone then formed an orderly queue to get over a stile. The view from the top was breathtaking.
After avoiding the rabbit holes I thought I was safe from falling…how wrong I was!
At about mile 3 I tripped over a rock (more like a pebble really!) and
I went crashing down. Dusting myself down and with blood coming from my knee and elbow I carried on…I didn't even cry!!!
After mile 6 I started getting a real pain in my wrist. This got steadily worse and at more 18 I thought I was going to be pulled out. At mile 22 I again had to reassure the Marshals and a local Policeman that I was fine.
The pain was getting worse and was made worse by running on uneven ground hard and running up and down hills.
By this time my wrist was twice the size and I couldn't move my arm.
Shouldering on I was glad to see the finishing line.
As I finished the ambulance crew came over and explained that the Marshals had radioed in that I had to be seen.
After being examined the consensus was that I had broken my wrist and that I needed to go to A&E.
Fortunately, it transpired that I hadn't broken my wrist and it was just badly sprained from trying to reduce the impact of the fall.
I couldn't fault the marshals or the support I got from fellow runners. The countryside was stunning and it was one of the best runs I've done.
At the end each runner got a decent goody bag, medal and a pint class to celebrate the run.
There was even free beer at the finish but I didn't have any.
My 96th marathon and certainly one of the most eventful and I've now run a marathon in 38 County's.
Marathon 95: Stockholm:
Dancing Queen & "**** That Bridge"
It was supposed to be a cool 16 degrees, which would've been ideal for the run but the Nordic Gods had decided differently.
Instead with a midday start it turned out to be a beautiful hot summer day with a cool breeze.
Fancy dress or not? That was the question.
It was a no brainer, it was far too hot! A few minute  later I'm kitted out as Caesar, The Roman Emperor complete with cloak.
The hotel was only a short trip on the tube to the stadium and my outfit was a source of many smiles. Not sure what gave it away but they all knew I was English.
When asked, "Why?" I replied, "Didn't you get the fancy dress email?" One response,  "There was only one sent out!", made me laugh.
There were about 6 other runners in fancy dress including a Swedish woman dressed up as Shakespeare who has a sign on her back celebrating his 400th birthday.
We ran for a few kilometres together chatting about the great Bard of Avon. It turned out she was a member of the Stockholm Shakespeare Appreciation Society.
The race started at the Olympic Stadium which also housed the small expo and bib collection the day before. As well as the normal bag drop off there was also a separate secure valuables area for runners.
13,528 runners started but 629 didn't finish a challenging scenic course scenic around the medieval City situated on fourteen islands, on the banks of the archipelago of 24,000 islands.
The course consisted off two laps which meant doing the toughest climb twice which was up a hill and then over an arched bridge. The locals were at their loudest at this point shouting and banging drums to give as much encouragement as possible. As you turned to reach the hardest point a group then repeatedly started chanting, "**** The Bridge". At first I wasn't sure I had heard it right but they had made banners with the same chant!
There was great support from the locals all the way round the course and there was live bands or music at every kilometre. There were also a few Welsh football fans in town for the friendly match versus Sweden.
I was disappointed not to have heard any Abba but then at 28 kilometres we ran pass the Abba Museum to the tune of "Fernando". Being a massive Abba fan I was very tempted but decided to visit the next day instead.
It must have surprised the locals seeing "Caesar" picking up the pace and sprinting pass other runners singing a Abba tune!
Every two kilometres there was a feed and drink station with water, sports drinks and flat coke. About every 5k there was run through shower. With the temperature touching 20 degrees you certainly needed it.
There was another long climb to the finish which was inside the 1912 Olympic Stadium.
The Stadium was packed with supporters to cheer you on the last 400 meters.
At the end you got a decent goody bag, tee-shirt, medal and drink bottle. In addition, as many free hot dogs and pastries you could eat, and as many free beer's as you could drink! Armed with just a can of Pepsi I headed back to the tube.
More strange looks from the locals. Seeing my medal I was asked, "Did you run in that?"
I nearly replied, "No, I just like dressing up as Caesar!"
Instead I just smiled and replied "Of course".
One of my favourite marathons, a real relaxed atmosphere and a cracking City.
94 More than 16,000 runners from 54 countries started the 3rd annual Rock 'n' Roll Liverpool Marathon and Half Marathon.
I've paced in everyone and this time we looked really smart in our CEP compression tee-shirt shorts and socks. The race starts and finishes along Liverpool's waterfront, overlooking the scenic views of the stunning dockland area. As usual every mile there were live bands performing and the local community was out in force to cheers us along.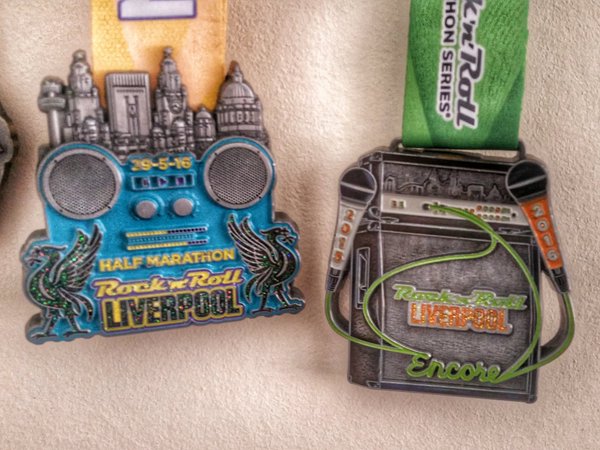 With temperatures touching 25 some locals sprayed runners with hose pipes and provided much needed additional water stations.
The support around the football grounds of Anfield and Goodison Park was fantastic.
Surprisingly there was little sign that Everton FC would be hosting a world title boxing bout that evening.
Compared to the previous marathons today was exceptionally hot and a number of runners needed medical assistance. One pacer collapsed through heat exhaustion and the pacer I was running with pulled out at mile 16. Fortunately both were fine.
I finished with really bad cramp and found the course hard going particularly in the midday sun.
As usual you received a quality tee-shirt and a heavy duty 'bling' medal. If you ran the RnR last year you also ended up with an additional Encore medal as well.
I can't fault the race at all. Lots of drink stations and top draw organisation.
93 The Ox
Another classic White Star event in sunny Dorset.
My Saturday night was spent making 2 fancy dress Ox costumes from a couple of bed sheets. Complete with a tail, mask, horns and hoofs Nick and I were the only ones in fancy dress.
As usual the race had all the famous White Star touches including the well stocked Love Shag at mile 20 and a hug from one of the event crew.
Before the start a number of runners took their photo with us. After running The Larmer race as a peacock in a Christmas Tree and Roman soldiers for The Invader we are starting to get a reputation as the "Fancy Dress Nutters".
Quite a few runners had also camped the night before and ran the Dark Ox at dusk. As a result some of the course was very muddy and slippery.
There was of course the expo with a difference, consisting of a Ice Cream van, a local cider van, a Fish n Chip van and a couple of running gear suppliers. The biggest queue was for the superb Make Your Own Renault Estafette vans selling coffee with homemade cakes, and freshly made pizza and pasta.
After finishing the race I had one of Stuart's cup cakes to celebrate him joining the 100 Club. Each cup cake had a little flag detailing every one of Stuart's races which was a nice touch. I choose the Portland Marathon which was the first run I did with Stuart.
As is customary, Nick and I won the fancy dress competition winning some bottles of local beer.
Another great event from arguably the best race organisers on the scene.
92  "Walking On The Moon"
"I'm off to bed!" I state.
"But it's not even 8 o'clock!" , replied my wife.
"I know but by the time I've got ready it will be".
"It's Saturday night and you're going to bed before Cinderella!"
I thought Angela had a really good point but I had to get up pretty early.
At 3:15am the alarm went off and I jump out of bed, running kit on and I'm driving to meet Nick.
Five hours later we are registering for the Imerys Trail Marathon in deepest Cornwall. My 92nd marathon and my 37th marathon in a new County. I've now got only 13 more County's to run in to get my 50 County badge.
"Where's Huncote?" asks the registration person.
I don't think she could believe that two runners had driven down from the Midlands this morning to run and then will go back the same day.
There were 89 runners for the marathon and the rest of the field consisted of runners from the south west and south coast.
The Imerys Trail Marathon offered a unique experience for one day only, to run on the land of Cornwall's Open Mine Clay Industry.
Because of the way the land is quarried it provided a real challenge under foot and also with the large amount of steep climbs.
At 8 miles there's a strictly enforced cut off point. Fortunately I made it 6 minutes inside. Nick was 3 minutes out but was allowed to carry on as I had explained to the Marshall that he driven down from Nottingham this morning, others weren't so lucky.
There was a drink station every 3 miles and the signage was excellent. The race crew was superb cheering and helping you get round.
Most of the race was round the clay quarry with only very short sections of road.
The quarry provided a lunar type landscape and was occasionally interrupted by views of the picturesque Cornwall's countryside and coastline. Sadly we didn't get to run by the sea.
At the finish there was a chance to have a local Cornish Kelly's ice-cream and some fruit. The goody bag had a few local items and a decent medal.
Finally, I won a spot prize of a running number belt which will come in handy.
I was just tucking into a banana when I heard a,
"Alright".
I looked up to see Nick who had suffered from heat exhaustion and had to retire at mile 18.
It was gutting to see him and we now need to do the Cornish Marathon in November so he can complete a run in the County of Cornwall.
That will mean bed before Cinderella again!
Paul
My 91st Marathon:
"We can be Heroes"
On the hottest day of the year I headed south to run the Marafun in Kent.
The race was in aid of a charity for rehabilitating street kids and orphans in Kenya with all proceeds going to help.
The event was very low key with a field running a 10k, half and full marathon. There was 120 runners doing the full and the general consensus was to take it easy given the heat.
A relaxed start of 10:40 and we were off running up the first climb. The route was like a training run through mainly streets where you had to stop for the traffic or wait for the pelican crossing to turn green. One part was through some woods which provided some welcome shade.
There was a drink stop every mile which given the temperature hit 25 degrees it was needed. A couple of local residents also gave out water and sweets from their driveway.
With very few marathons being held it was a good chance to catch up with a number of runners. Blind runner Paul was there just 3 off his 300th marathon. I agreed to guide him at the Wales marathon later in the year. I later found out that pulled out at half way due to the heat and a foot injury.
Another Paul was trying to convince me to join him on a number of European trips. Rooney was there running in yet another Man Utd top!
A number of runners were doing back to back marathons, running Halstead the next day. "Hero's", all of them as David Bowie would say.
They reckon that some of your most supporting friends are runners you've never met. Today this was a classic example of this as runners encouraged each other round a tough and gruelling course.
In the end I was glad to finish the run and get the air conditioning on!
81 to 90
90 MK Marathon 
After the highs of London it was back on the road for a local race.
The third time I've paced at the MK marathon which in fairness is a superbly organised run.
The course had been changed to reduce the number of underpasses which was a good decision. The route still took you pass a number of the favourites sites including the Roman Ruins and the Concrete Cows.
As usual there was a number of refreshment stops with water, gels and sports drinks. Again the local community cheered runners on supplying fruit and sweets at regular intervals.
I came in within one second of my 4:45 pace time. The end is next to the players tunnel in the MK Stadium which is a great touch and the roar as you entered was deafening.
A good goody bag, decent medal and tee shirt to finish. Finishing I had really painful cramp in both legs which was the first time I had cramp after a run. Didn't feel to good either and ended up lying down on the concrete floor and fell asleep whilst waiting for Nick to finish his 72nd marathon.
Before leaving I picked up the two running books I brought earlier. Lisa Jackson's, "Your Pace Or Mine". I did the Thunder Run with Lisa and she's now done over 100 marathons.
The other book was the biography of Steve Edwards, "The Man Inside The Machine". Steve has run over 700 marathons in a staggering average finish time of 3 hours and 16 minutes. Steve is known as 'The Godfather' on the circuit and is a great bloke.
So the final countdown begins leading up to my 100.
89: The Day I Became A Marathon Runner 
The London Marathon Expo was enormous with a wide range of running kit or devices or promising to get you a PB. I had already received a full kit from Runners World so resisted the temptation to buy anymore but did come home with a flip belt.
Had the absolute pleasure to meet Rob Young again, aka The Marathon Man.
Rob completed a staggering 370 marathons in one year. What's even more amazing then his story of endurance is how he overcome a horrific childhood to achieve his record breaking challenge.
Robs now brought out a book about his story which he signed with a personal message.
I was in tears after just the prologue and read it back on the train.
A truly amazing bloke.
Up early and headed back down to The Smoke with Angela. After watching the street entrainment at Covent Garden we went to see a comedy at the theatre.
Final carb loading at an Italian restaurant and we headed to the hotel just off Oxford Street.
Woke early on Sunday morning and caught the tube to Greenwich. The tube was soon packed with runners eagerly awaiting the start of the 35th London Marathon.
Runners World had arranged a photo shoot for all the pacers and then it was of to our starting pens.
I had about 30 runners in my pace group many doing a marathon for the first time.
Each mile we done was greeted with a huge cheer. The route was lined with spectators who joined in my "Oggy, Oggy, Oggy" chant.
At every point spectators were cheering and applauding us as we ran through the Capital.
By half way the group was starting to thin out and we were joined by other runners. Every 2 miles there was a gel or drink station and there were 4 run through showers to cool you down.
The highlight for me was running over Tower Bridge. About this point I met the Marathon Man and after a quick hug we were back on our way. When you think there was over 38,000 runners to spot him was amazing!
At mile 23 something caught my attention, looked round to see my partner, Angela. Amazing when you think how many people was watching and cheering the runners on. After a quick hug I was on my way. Angela reckons you can't consider yourself a marathon runner until you've completed London.
The route itself has gone through very few changes since the first ever marathon and finishing running in The Mall alongside St. James's Park was an amazing experience.
After the race Runners World had put on a spread for the pacers which was a nice touch and then it was back on the train home.
Loved the run and the feedback I received from people I paced was very humbling.
Marathon 88: Theatre Of Emotions
35,000 people from 130 nations and every continent descended on Vienna for the "The Theatre Of Emotions Marathon.
The City lived up to all expectations with its culture, music, theatre, architecture and history.
We arrived on Saturday morning and went straight to the Expo, which was ok and had quite a few traders.
The people were really warm and friendly with most speaking better English than me.
The transport links to the City were excellent and we headed straight there. Booked on a bus tour and walking tour around the City. For only €15 it was great value and well worth it.
Checked in to our hotel but sadly didn't blag it into the area for Elite runners who were staying at the same hotel. I did try and argue that I was a top athlete but the organisers were having none of it!
Straight out for a bite to eat and to watch American ice hockey in a City bar. Disappointingly we couldn't find anywhere showing the Anthony Joshua fight but after a  few frantic calls home we were able to watch it on my iPhone back at the hotel.
Nick was asleep before the walk on but AJ delivered early and I got to bed at 1am!
Up at 5:30am for breakfast and we made our way to the start.
Surprisingly the marathon was really low key with no checks on race bibs or what area you started in. Tempting as it was to run with the Elites we started off with the slower runners.
The route took in most of the major sights and I stopped and videoed lots of the run.
Most runners were doing the half and when the full and half routes separated it was a lot easier to run.
The whole route was traffic free and three times I stopped to assist some older locals to cross the road and stopped the other runners. My lollipop duties weren't completely finished as I also helped two women with prams.
At mile 14, which is now tradition with overseas races, I stopped for an ice cream!
Running the next mile eating a delicious cornet caused a lot of smiles and comments from the locals and fellow runners.
A TV crew on a motorcycle then pulled up and interviewed me about running with an ice cream.
I explained I was a, "Mad Englishman & that I ordered a pizza to takeaway at 30 kilometres!"
Dedicating the run to Anthony Joshua I got the Marshall's to shout "Come on Anthony Joshua" as Nick ran passed. I captured it all on video and it certainly makes me laugh!
With stunning views along the route the race was a delight to run. So many highlights but perhaps the best was the Palace and running along the Hauptallee and seeing the 1920's Ferris Wheel.
The finish was spectacular with a temporary spectator stand and the theatre providing a stunning back drop.
Although the drink stations were plentiful there was no fruit or snacks. For a big City marathon and given the race wasn't cheap,  it was disappointing that you didn't get a finishing teeshirt. The medal was also very average.
However, in saying that the race was a wonderful experience.
Marathon 87: Hug A Stone
Another excellent value LDWA event the "Pewsy DownsAround" in Wiltshire for an amazing £7:50
The views were breath taking over the Wiltshire countryside.
The highlight was seeing the Avery Stones and the Alton Barnes White Horse.
2 miles in and we were climbing the first hill, the Giant's Grave with the remains of an Iron Age hill fort at the summit.
A few miles later we were running close to the White Horse first cut in 1812.
Running along the Wansdyke was tough and dates back to the 5/6th century as a form of fortress.
Eventually we reached Avebury with its impressive stone circles. In my view better than Stone Henge and free to visit.
Although not part of the route I couldn't resist 'hugging' one of the 5000 year old stones.
Leaving Avebury we ran past the Red Lion pub which is reputed to be the most haunted pub in England.
In the distance was Silbury Hill, the tallest prehistoric human-made mound in Europe. Estimated to be built 4750 and taking 15 years to make.
With three refreshment stops with a great variety of home made cakes and sausage rolls you could eat your own weight in food!
At the end I got a Wiltshire LDWA badge and there was a hot meal and more cake for those who wanted it.
A brilliant run, full of history and great value
86 Easter But No Eggs! Northampton.
A small number of runners set off on a windy morning to run the first day of the Charity Easter Round The Reservoir.
The route was 6 times round the reservoir but disappointingly it was a rather dull run. Part of the route was a long drag by a busy road.
You also went through a number of kissing gates which broke up your stride.
Despite its flatness there was a strong head wind on one section. Like others I struggled a bit on this. It was quite lumpy in places and on this type of terrain I'm always fearful of falling and twisting an ankle. On lap 4 I did fall but fortunately didn't twist anything.
Each lap took you pass a small stocked aid station.
The field of runners included a large number of 100 Club members who running back to back marathons. One runner was celebrating her 50th birthday and her 200th marathon.
Upon completing you were presented with a medal and a bag of chocolate goodies that even the Easter Bunny would've been happy with!
Not one of my favourite races.
85: Honouring Sir Water Raleigh
The Devonshire Dumpling Marathon started very early at 8am in Budleigh Salterton near Exeter. This was my 85th marathon and the first time I've run in Devon. I've now run in 34 counties and need another 16 counties before I can claim my 50 County's award.
The race was fantastic value at £7 and included 3 well stocked refreshment stops with sausage rolls, sandwiches and home made cakes. I had to repeatedly tell Nick, "It wasn't a picnic" as we would never had finished.
I knew it was going to be a good event when just after the start we passed Pooh Cottage Holiday Park and some top touring caravans.
The route was mainly trail with a challenging 2692 feet of ascent.
The highlight was running through East Budleigh the birth place of Sir Water Raleigh. I was very tempted to nip into the 15th century pub that was named after him to toast his honour.
For 6 miles we ran along the costal path with the sea providing a stunning backdrop.
I made some walkers 'jump' when I passed them on a golf course and shouted "four"! As I game up behind them they were discussing if they had gone wrong as they were "supposed to be on a golf course ". Fortunately, they saw the funny side and I explained that "I had been let out for the day".
The route also included running the oldest part of Jurassic Coastal area and through the award winning Devon Cliffs Caravan Park with its premiere range at Sandy Bay with its Blue Flag Beach.
The views were spectacular as we climbed to the peak of Sandy Bay before sweeping steeply back down to Budleigh Salterton and a well deserved home made Cornish pasty which was included in the price.
I couldn't fault the event and it's certainly one of my favourites.
Marathon 84: "Quite the prettiest sight I ever saw in my life"
The start of the White Star 2016 running season commenced with The Larmer Tree set in the magnificent Larmer Tree Gardens which Thomas Hardy described as, "Quite the prettiest sight I ever saw in my life".
The garden takes its name from a splendid landmark tree that stood on the site in the 10th century.
Before the race about 50 of us received a top draw season ticket holders sweatshirt for signing up to the 2016 tour.
White Star certainly know how to put on an event and it's not a surprise that two of their races have been shortlisted for marathon of the year.
Well marshalled, good signage, great fun and free posh nosh at the end..what more could you ask for.
With a water and feed station every 3 miles and the famous live station at mile 21 serving cake, alcohol  and "free hugs" the race was another classic.
In 1995, these extraordinary gardens were reopened to the public and the race took you round the estate. Lots of tough hills and mud created a good challenge.
Nick and I ran the race in fancy dress as a Larmer Tree which made the run heavy going in the Dorset heat.
As expected a brilliant run from the best running company out there.
Marathon 83…17 to do
The Longhorn attracted 750 runners mainly families and children running the 5k or 10k.
There was also a large number completing the half marathon.
An early start saw 17 runners start the 60k ultra and only 19 doing the full marathon. The race was set in the private areas of Sherwood Forest & the beautiful grounds of Thoresby Hall.
As a Grade1 listed 19th Century country house in north Notts it provided a splendid setting.
The marathon consisted of 4 laps over old military roads, cleared tracks through ancient woodland and grassed paths around the country estate. 
The route included a few hills and provided breath taking views as we ran into Nottinghamshire's National Nature Reserve.
The woodland is dominated by native Oaks. The reserve is also the site of Europe's oldest Oak tree woodland, containing over 1000 Oaks most of which are over 500 years old!
The best view was running near the famous Longhorn Cattle of Thoresby Estate. The cattle are allowed to roam freely, although they were tucked away during the race.
Very well signed and marshalled with three well stocked refreshment areas.
At the end there were a few stalls selling running gear, a massage area and people selling hot food.
Very well organised and despite the cold and snow a great marathon.
82: The Quest For The Vest Continues
Last time I enter a race that requires you to map read to find the check points.
I'm useless at orienteering and always get lost.
Today was no exception as I turned a marathon into an ultra by running an additional 2 miles.
Fortunately, it was in the picturesque New Forest with its charming villages and its quaint cottages.
The run started and finished in the beautiful village of Burley which created an idyllic setting.
What added to the event was seeing a large number of New Forest Ponies and cattle. Every mile the ponies were roaming freely and we must have seen over 100.
Only three of the six checkpoints were staffed as 100 walkers and around 50 runners completed the New Forest Challenge.
With a hot meal to finish at £6 it was a real bargain.
On leaving to drive home we had to ask a pony to move so we could reverse. A classic end to an amazing race.
Marathon 81
The Good, The Bad & The Ugly
After a weeks rest we were up before the dawn chorus to head to Deal in Kent.
"We're 8 miles from Dover! Normal people don't do this!"
Nick looked at me and replied "And your point is?"
"We're closer to France than home".
"Shall we go to France?" Nick asked.
I wasn't sure if he was joking or not but given I'm near Dover at 8am I decide not to ask.
Along with about 100 runners we make our way to the Betteshanger Country Park for The Good, The Bad and The Ugly Marathon.
Traviss had organised the race as a one off event to mark the 50th Anniversary of the film.
A few runners were in fancy dress and came as Clint Eastwood.
Before the start one runner got a flake to mark his 99th marathon, as in a 99 ice cream…a nice touch.
Another runner was doing his 100th marathon.
The race was held at a new country park built on an old mining quarry.
The route was 12 laps of just over a 2 mile route. You climbed for most of the route against a strong head wind.
You passed a very well stocked refreshment stop each lap playing the sound track of the film.
Not the most interesting of races but totally car free. The highlight was passing a winter caravan storage area for touring caravans.
The most popular manufacture was Bailey with their smooth contours and sleek design. There was also the new Coachman fixed-bed two-berth which reduces weights across its ranges by up to 70kg.
I was very tempted to go and have a look as I have obsession with caravans but resisted the temptation.
As usual with Traviss you got an extremely well stocked goody bag and an enormous heavy medal picturing the film.
A long journey but well worth it.
Paul
71 to 80
80 Searching for Pirates in Portland 7/2/16
The final part of the seaside marathon series took us to the isle of Portland in Dorset.
The race set of from a very wet and windy Marina with its million pound boats providing a surreal backdrop.
The pre race briefing ensured that we were all carrying the correct emergency survival kit. The only items I was missing was a wheelchair and stretcher.
At 9am 128 runners set off climbing up to the top of the cliff edge.
The conditions were very slippy underfoot and the wind was particularly strong.
The route was along the costal path which at times took you really close to the cliff edge.
All of a sudden one of the runners just in front of me slipped and fell and provided an ideal opportunity for me to use my emergency pack. In a quick flash I had her in the recovery position, had my emergency blanket out and an oxygen tent set up. Despite my instance she needed a stretcher the only thing she wanted was a 'baby wipe'.
A few miles later I slipped going down a mud hill much to the amusement of some local lads who videoed the whole thing.
Smiling and covered in mud I told them it "wasn't funny" but to their delight I was the first runner to fall over and it was going on YouTube!
The island is only 6 kilometres long but included a number of steep climbs. At times the wind was so strong it blew you sideways. There were 5 refreshment stations and for marathon you did two laps running clockwise and then anti-clockwise. The route encompassed breath taking clifftops, disused quarries, housing and industrial estates, a beach it community, MoD compounds, a prison, a 13th century church with a pirates graveyard and three lighthouses! The main lighthouse Portland Bill dominated the skyline.
When I finished tired and exhausted I was surprised to see Nick waiting for me. I was just about to congratulate him on a great run when he explained he had to pull out with cramp at mile 18.
One of the hardest marathons I've done. Well organised with great views.
We dedicated the run to our great friend Ivan who sadly died the day before.
Naughty Boys Put Your Hands Up!
Marathon 79 & leg 3 of coastal marathons in January, meant an early start to run the Dark Star Ultra Marathon in Shoreham By The Sea.
After registering I said to Nick that I didn't recognise any of the other runners and it turned out most were very local.
The race director was coming to end of his pre race briefing which basically pointed out that the route was very, very muddy and beware of the cows, when he asked "Is Nick & Paul here?"
I was concerned that we were going to be in told that our cheque had bounced. We put our hands up nervously! However, I needn't had worried as he told everyone "They have come down from Leicester and Nottingham this morning". We then got a round of applause from the 80 or so other runners.
We started off in drizzle which continued for much of the run. There were 5 refreshment stations in a out and back route that followed the River Adur for 18 miles and then the Sussex Downs path for the rest.
The path along the River Adur was just a mud bath which made running very difficult and I lost count of the number of times I nearly fell.
There were numerous sty's, bridges and gates which were also extremely slippery.
At the end of the race you got an impressive part one of four medals that lock together. I now need to get the set!
With hot food and drinks to finish it was a very well organised race.
Marathon 78:
Another early start to drive to Dymchurch in Kent for my 79th marathon and a new County to run in. I've now run a marathon in 33 counties and only need another 17 to receive the 50 County badge. Less than 10 people have been awarded this.
The event was put on my Traviss who is the 100th Marathon Club secretary and a top bloke.
The race was out and back 5 times along the front. The wind running out was quite calm but running back was into a head wind and it was like running up hill.
The refreshment table was well stocked with all sorts of tempting goodies and a feast fit for a King.
At the start one runner received his 400 marathon badge. What made it even more amazing is that he had completed 100 marathons in 2 different countries. He also received another badge for completing 100 road marathons, 100 trail marathons and a 100 ultras!
My mouth was wide open in amazement. A truly phenomenal achievement.
As the clock struck 8:30 about 75 runners set off on a brisk Sunday winters morning. The whole route was against the back drop of the sea. A number of locals were walking their dogs but none decided to take a dip in the sea.
My favourite part of the run was going pass a caravan park. It looked empty but I was tempted to run round looking at the 6 berth statics. Prices started at less than 9k so there was a bargain to be found.
But despite the temptation I ran on and instead just enjoyed the view of the sun reflecting on the caravan roofs.
A fellow runner could see my obvious interest in caravans and we shared a couple of miles talking about sitting of caravans and best way of connecting to the mains service of water, electricity, drainage and LPG.
Interestingly i learnt that it's now possible to connect to an underground TV aerial and this has replaced traditional mounted TV aerials!
What made this conversation even more surreal is that I don't own a caravan and don't intend to!
At the end I smashed my PB by about 20 minutes for a marathon and Traviss presented me with a PB Today pin badge which was a nice touch.
At the finish you received an excellent goody bag and the largest medal I've ever had. It's twice as big as the others I've got.
In all a great race, top goody bag, a new County run in, a PB and to top it all a chance to have an informed chat about caravans. Loved it!
Winter Wonderland Land..My 77th Marathon
Up at a ridiculous hour to drive to Newcastle to run the Town Moor Winter Run.
As I peered outside, snow was falling and it looked like a scene from a snowy Christmas Card.
Most sane people would've gone back to bed but as Mike tells me I'm mad!
As I'm driving I'm thinking, "If it's snowing here, what's Newcastle going to be like?". Funny thing was, the further North i went the snow was less heavy and had stopped by the time I picked Nick up in Nottingham. Nick was running his 61st marathon today.
Arrived in a deserted Newcastle which was still asleep with the temperature just above freezing.
The run was organised by the North East Marathon Club. With a six hour cut off runners had the choice of running as many laps as they wanted. To do a marathon you had to run 7 and 8 for an ultra.
The event was very low key. I was trying to figure out where the start was, when a chap drew a chalk line on the path and wrote "start"! I had to smile.
The run was held in the Exhibition Park named after the North East Exhibition held in 1887.
It was so cold that the boating lake had frozen over. I had a number of layers on and was still cold. In fact I'm sure that I had more clothing on then an Antarctic Explorer.
The organiser looked at me shivering and said, "It's a bit fresh". Talk about an understatement! In fact when one of the more hardy North East  runners stripped down to her shorts I was very tempted to ask if I could put her leggings on over mine.
In total there were 38 runners mostly in club vests, shorts and a few in leggings plus 2 Harriers who were fit to go exploring in the South Pole.
After the first lap I started taking the layers off. At the end of the race I couldn't find any of my kit! One of the organisers told me that Nick had put them on as he was cold!!
When Nick eventually finished I'm surprised he could run with the amount of kit he was wearing.
I only did 7 laps which was more than enough as I finding it tough going with the chest infection I have.
About half of the runners ran the marathon or ultra and we were served warm orange juice each lap. The course was very icy and parts were hard to run on. St James Park provided a wonderful backdrop to the run. Despite the cold the Park was very well used with children sliding on the ice and people walking their dogs.
A bargain £18 and a very friendly run.

Marathon 76
Wallowing in Mud
On a cold morning 360 entrants set off from Leatherhead Leisure Centre on the 38th Annual Winter Tanners.
242 runners and walkers entered the 30.4 mile ultra with the remaining doing the shorter 20 mile route.
The conditions were very slippy and I don't think I've ever seen so much mud.
There were also places where it was impossible not to run through quite deep puddles or standing water.
The route itself was brutal and 30 entrants switched from the longer route to the shorter one and there were 14 retirements.
Spent most of the day running up the scenic Surrey Hills or staggering down them.
Just when you thought it couldn't get any harder it started to rain but this just added to the fun!
There were three well stocked refreshment points and for £6 it was an absolute bargain.
75: "Looks A Bit Off Putting Paul"
My car drives itself now to Caldecotte Lake as I've done it so many times!
The weather was awful and as a result there were 33 'no shows' leaving a field of about 30 runners.
Foxy set us off and the 100 Marathon Club runners or 'wannabes' trudged off down a soggy path.
The course was full of puddles and by end of the race some were quite deep.
As the rain got heavier a few of the runners were struggling with the cold and wet conditions. Don't think everyone finished and certainly a few were walking.
As I passed the check point on lap three, Foxy shouted "Looks A Bit Off Putting Paul!" I looked down at my top and both my nipples were bleeding. My yellow running jacket had two rather nice stripes of red.
Just when I thought it couldn't get any worse my vision in my left eye became blurred on lap five and then the same thing happened to my right. At one point my left eye virtually closed leaving me with little sight.
With two laps to go it was a case of grinding the race out. Foxy was becoming more concerned as my running jacket was now nearly all red. After I nearly crashed into the race gazebo I had to reassure him that I only had one more lap to do and that I was fine.
Finished totally wet through and with a pair of pink eyes that matched my top!
Well, that's my 75th Marathon and one of the most eventful! Reckon that puts me level with Mick Butler on the number of marathons I've done, although Mick's a far better runner than me.
I should reach 100 in August
74 Guiding in the Italian Sunshine
The Leaning Tower of Pisa provided a beautiful backdrop for the marathon.
The City itself was beautiful and runs alongside the River Arno.
Arrived on Friday on a pleasant day.  The Bell Tower of the Cathedral, more commonly known as the 'Leaning Tower of Pisa' dominates the skyline. What I didn't know was there are three towers that lean but the Bell Tower is the most famous and is sinking by 1mm a year which causes it to incline.
We stayed a mere five minutes walk from the Tower which signalled the start and end of the race.
The Expo was very small and a 15 minute walk from the centre. Walking back through the local Christmas markets was nice.
On Saturday we took the train to the city of Florence. With its stunning cathedral, marbled buildings and medieval walls it was well worth the visit.
We bathed in sunshine in the previous capital of Italy and took a guided tour around the main sites.
After a splendid meal of local pasta it was time to hit the zzzs!
Leaving the rest of my family to enjoy their morning breakfast I made my way to the start. It was only a 5 minute walk from the hotel.
As usual the Italians were immaculately dressed in the latest running gear.
The full and half marathon runners set off at the same time with the fun runners.
The route took you along the edge of the River Arno crossing the bridge to the north side of Pisa and then out into the stunning Tuscan countryside, past landmarks such as the Basilica San Piero.
Eventually you reach the Tyrrhenian Sea. The views were spectacular and the costal area of Marina di Pisa was a really enjoyable part of the route. You then head back to Pisa following the river and back in land.
Water stations were every 5km and well organised with a selection of banana segments or oranges, panettone and sugar tablets. There were also 4 sponge stations which were needed in the warm December sunshine.
There was little local support and although well marshalled the Marshals didn't offer any encouragement.
However, you couldn't criticise a run that finished a stone throw from the Leaning Tower of Pisa.
There were only a few Brits running but a pair of trainers and running is enough to break down all language barriers. During the run I had the pleasure of guiding an Italian blind runner for a lot of the run and it was great to cross the line together.
Her English wasn't great but ten times better than my Italian, but none of that seemed to matter as we ran through the streets of Pisa.
Pisa is a medium size marathon but proved to be a great race and one that I certainly won't forget.
Marathon 73 Ho Ho Ho
The only two marathons on were the Christmas Enigma in Milton Keynes and Lanzarote.
It wasn't a tough choice but with the rain coming down and a biting cold wind I would've preferred Lanzarote!
Instead of the sun and sea I had 7 and a bit laps of Caldecotte Lake. Fortunately, the rain stopped by the second lap as 65 runners ran round the lake.
Christmas carols filled the air as we set off along the lakes footpath.
Apart from the odd early morning jogger and a few dog walkers it was a very peaceful run.
During the lake's excavation engineers discovered the skeleton of an Icthyosaur!
The route is dominated by the Caldecotte Arm Pub distinctive windmill built in 1992. Purely decorative, it is an imposing site. On a few occasions I must admit about nipping in for the award winning breakfast but instead munched on a few nibbles and drank water at the runs refreshment point.
Half of the field were 100 club runners and the rest were 'wannabes'. One runner was doing his 100th race and as is tradition provided cakes at the end.
Nick unfortunately had to pull out about mile 16 with cramp. It was the first time he hadn't completed a marathon and I felt gutted for him.
My 73rd marathon and not the most memorable one!
Marathon 72  On a cold and windy morning around 50 runners set off to complete day two of the Broadmeadows November marathons.
The run centred around the Mary Arden Inn some 3 miles outside Stratford in the small village of Wilmcote.
The Inn is named after William Shakespeare's mother who lived opposite in a lovely half-timbered Tudor farmhouse built of oak from the nearby Forest of Arden and stone from Wilmcote.
The route meant you passed the Inn three times for refreshments. The Inn was built in the 1700s and I must admit the warm open fire and a Sunday lunch looked very tempting.
But no! There was a race to run and I settled for a few jelly babies and orange squash.
There were three other stops including a farm where cider was available to warm the 'cockles of your heart'.
As usual Chris put on an excellent race taking you out along the canal and the glorious Warwickshire country side.
A number of very familiar faces including Bonnie, a dog who has completed over 50 marathons and is on course to become the first four legged member of the 100 Marathon Club.
The course was very muddy and at times you were slipping and sliding instead of running but that just added to the fun.
My 72nd marathon and you received a nice bottle of wine as part of the goody bag.
Survival Kit
Marathon 71
Sundon Saunter Ultra
"Have you packed your survival blanket?" asked my wife.
"What?" I questioned.
"What about your flare?"
"What flare?" I replied.
"Your emergency flare, you are bound to get lost!"
"We are not going to get lost!". I reaffirmed.
"You will"
Angela then went onto list every bit of survival or emergency kit she thought we would need;
"Torch, blanket, tent, first aid, food, flare, foil sheet…"
"We won't get lost!"
"We'll see", Angela replied.
Trouble is I knew that from past experience that any race that specified to bring a compass and head torch, we were bound to get lost!
5 minutes into the race the two leading runners I was following ran straight on instead of turning left. Instead of reading the route instructions I just followed.
Suddenly a voice behind shouted "This way!"
The race had only just started and I was getting lost.
The race was put on by the LDWA and had everything. The route was really muddy and I even got a shock from an electric fence.
The highlight was running through Woburn Park and seeing two Stags.
The views were stunning particularly Woburn Abbey and the 'gingerbread house'.
90% of the route was off road through woods, quarry's, farm land, stately homes and muddy ploughed fields.
I even had to duck flying golf balls as we ran past a number of fairways.
I lost Nick at mile 2 as he took a wrong turning. Angela was right!
Great refreshments on the way round and beans on toast with a local port to finish.
All this for just £5!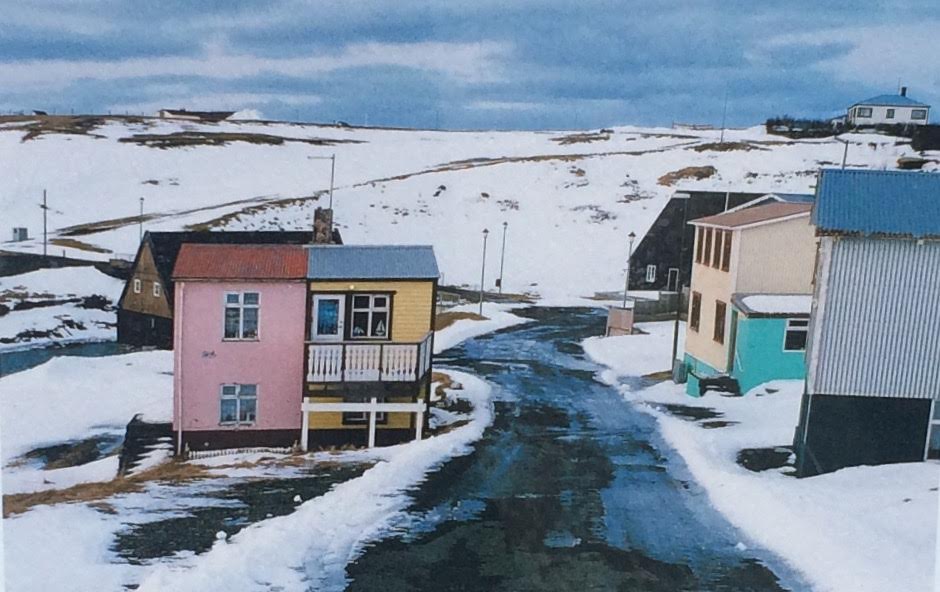 61 to 70 Caution contains nudity.
Back on Road 61 After a couple of weeks rest…well walking the costal path and then pacing at the Dublin half I ran Leilas Marathon. It's the second time I've run this very low key marathon. About 100 runners and half the field were members of the 100 Club. It was like a 'celebrity list' of runners who had done hundreds of marathons. The Butterfly Man was up to 1086 and had already run 82 this year alone!!! Four laps of a challenging circuit with 2 feed stations and a chunky medal to finish. My blind mate Paul was there now close to 300 runs and had a broken wrist and still ran! As usual a great and friendly event. Marathon 61 done Nudity in Iceland! Icelanders have a very relaxed view of nudity but more on the later. A big city marathon with a real community feel. The kit drop off consisted of a clear bag with a bit of marker tap and your number written on it with a marker pen. The lad doing it couldn't keep up so spent half an hour helping him out as any good Harrier would! You then left the bags in a unattended room. This freaked the Americans and British runners out but the official line was "The Icelanders will not nick your stinky kit!". The race started by the Prime Minsters house and there were quite a few Canadians who had flown over. A lot of the runners were doing either the 10k or half but there were quite a few still running the marathon. Went you ran through populated areas the locals encouraged you by ringing bells or banging on tins or metal lids. Some of the run was through an industrial area but you passed some classic sights on a loop course around the City including the bustling city streets of the old town and past picturesque Tjörnin pond, snow-covered mountains in the distance and a small waterfall and woodland area. On top of that you run pass the impressive theatre building, national museum and the old "lumpfish fishing sheds". There's also a number of statutes and artefacts including the Sun Voyager which is an aluminium Viking ship. At the end of the race there was a cup of power aid and water, a small piece of banana and that was about it! The medal was very understated much to the disappointment of some Americans I met who wanted more 'bling'. A number of runners ran in the tee-shirt you were given at the expo the day before which created a sea of red. As the race ended the largest festival in Iceland began. Real opportunity to experience some Icelandic culture. There were lots of bands and music from heavy meal with 100 Hells Angels to hip hop street music. Lots of street food sellers but the biggest queue my miles was for Dunkin Donuts! The locals go mad for them and there was always a large queue. After wondering round in the rain I went to the local outdoor swimming pool/spa sourced by hot springs. Hottest temp was 44 degrees which was great to relax tired mussels. You got in free as part of the marathon. You had to leave your shoes/trainers outside the changing room for anyone to pinch and then get completely naked before a mass group shower before getting your swimming costume on! You could spot the shy English lad with the towel a mile off!! Despite being worried no one pinched by running trainers either!! I don't think they would still be there if I left them lying around back home. One thing you soon appreciate is that the crime rate in Iceland is really low. After going back to the hotel to meet up with some other runners we went back into the festival which finished off with an impressive fireworks display. The streets were really crowded but not one bit of litter or beer can was thrown on the floor. Overall a very low key event in a great City. Some of the run was a bit dull but I leave with some great memories and would certainly recommend it. Marathon 62 done.
63: I Wish I Was A Fisherman
Up early, I tuned into Talk Fishing the weekly magazine show on all things fishing related at
6am
on a
Sunday
morning.
The show always starts with the classic "I Wish I Was A Fisherman" by the Waterboys.
You can't help but sing the song..
I wish I was a fisherman
Tumblin' on the seas
Far away from dry land
And its bitter memories
Casting out my sweet line
With abandonment and love
No ceiling bearin' down on me
Save the starry sky above
With light in my head
You in my arms
Woo!
There were times when doing my 63rd marathon running the Sandwell 6 Towns Marathon that in the words of The Waterboys, "I wished I was, "Tumblin' on the seas".
The run was littered with anglers,
"Far away from dry land" sitting on the bank side catching fish.
Me! I was running along with 90 other marathon runners, "And its bitter memories".
The run takes you through some great sites of the Black Country canals including some built by Thomas Telford. The countryside was at times beautiful but a lot of the run was sadly littered with beer cans.
We ran pass Galton Bridge which is a deep cutting dug by 100 navvies. Said to be the largest of its kind at the time it must have taken months using just picks and shovels.
Some of the run along the canal path took you very close to the motorway and with all the traffic noise I questioned whether I should instead be "Casting out my sweet line".
I passed each of the four feed and check point "With abandonment and love".
One of the the joys is running 1.75 miles through the Netherton tunnel. It's the largest and widest tunnel built and 9 men lost their lives building it. At times when you can't see what you are stepping in and there certainly was, "No ceiling bearin' down on me".
It was also a case of more slime then,
"Save the starry sky above".
But, "With light in my head" from the my head torch we reached the end of the tunnel which was renovated in 2013.
As we ran through Tipton you come across the statue of Willian Perry aka the Tipton Slasher, a champion bare knuckle fighter from 1850-7.
The end takes you through the popular Sandwell Show where I was given a warm hug as I finished, "You in my arms".
A warm cup of tea and biscuit to finish.
Then a walk round the Show before heading home.
                       "Woo!"

Marathon 64 "We Shall Remember Them"
Early start to set off for the Flanders Fields Marathon or Peace Marathon in Ypres or Ieper, as it's now known, in Belgium.
To get there i went on the Eurostar arriving in Brussels and then caught a local train to Ieper.
Arrived mid afternoon and in time to visit the award winning In Flanders Fields Museum.
A truly inspirational experience. The interactive exhibits were very tastefully done in four main languages.
They also had the original painting of 'The Menin Gate at
Midnight
' which was a privilege to view.
After I walked round to off the local war cemeteries with a staggering number of unnamed graves. Those that were named were mainly in their late teens or early 20s. I'm not ashamed to admit I had tears in my eyes.
A bite to eat and then I listened to an open air ska concert signing the hits of Madness, The Specials and Bad Manners.
At
7:30
I made my way to the Menin Gate and the playing of the Last Post. There was around 800 people and not a dry eye in the house. The service included an account of a British service man who died in 1915 and finished with God Save The Queen.
As part of the service I laid a wreath.
A service is held every night with the playing of the Last Post at
8pm
.
I slept outside in one of the war cemetery's. Not the best night sleep I've ever had but I did it out of respect. Apart from the sound of a cockerel at
5am
I was not disturbed.
At
7am
I had to catch the marathon runners bus that took you to the start in Nieuwpoort 26 miles away.
It was the 17th time the marathon had been run and there's a half and a 10k later in the day.
Met Bill and Pauline who are close to 300 marathons and a lad I know called Gary. Small world! In all there were about 10 British runners.
The marathon is very low key and very friendly. It started of with a Belgium bagpipe player.
The route follows the river IJzer towards Diksmuide, and goes further alongside the Ieperlee to eventually lead back into the historic town of Ieper.
You run through a number of villages including Steenstraete where 6000 Belgiums died victims of the first poison gas attack.
The route also passes a number of war graves. Perhaps the most telling part of the route was the so called Trench of Death.
The route was very flat and there were a number of cyclists who were riding with runners.
For the last 5 miles the heavens opened and I don't think I've ever run in such heavy rain. Crossed the line absolutely soaked.
You finished by going through the Menin Gate and then into the town square.
My 64th marathon and an experience I will never forget.
"Between the crosses, row on row, That mark our place; and in the sky The larks, still bravely singing, fly Scarce heard amid the guns below."
Marathon 65 – Chesterfield
The crooked spire of Chesterfield's church of St Mary & All Saints provided the picture drop for the Chesterfield Marathon. I guided blind runner Paul who has running his 290th marathon. A truly amazing feet that started 26 years ago. Paul lost his sight at the age of   6 and the miles soon pass as he tells you about the things he's done and the things he plans to do. The spire rises 228 feet above the earth, and at times as we climbed yet another hill we seemed to be above it. As we ran round we asked the locals why it was twisted. The common explanation was that one day a virgin bride got married in the church, and the spire, determined to witness such an unheard of event, twisted round to get a better look. The tale continues that if ever another virgin bride ties the knot in the church the spire will untwist. Another was that the devil was perched on the spire and twisted his tail around it to hold on and caused the spire to twist. Whatever the reason it was a wonderful sight.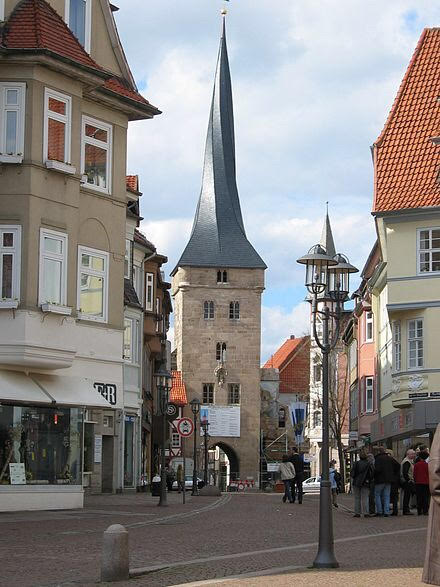 The route had changed a lot since last year and started and finished in Queens Park. The flat part last year was replaced by undulating hills that seemed to be round every corner. The locals cheered and clapped a traffic free run which was brilliantly marshalled. Even Paul commented that he had never seen so many marshals. Every 2.5 miles there was a drinks station supplemented by water and sweets from the locals. To finish you reviewed a goody bag, medal and tee-shirt. There were not as many runners as last year but it still made 2k for children with cancer. My 65th marathon and a really enjoyable run. 66 It Started With a Kiss
Never thought it would come to this.
As Hot Chocolate would sing…
In fact, it started in Chester 2 years ago but they were right about one thing ….I "never thought is would come to this"!
Today was my third time I've run Chester and the second time I've paced coming in just 2 seconds before my time.
Chester was my first ever marathon and I met Gary a seasoned pacer.
He's become a good mate since and we've completed the Iceland Marathon and paced in many races together over the last 2 years.
Today was a special day for Gary as he ran his 100th marathon.
At the end of the race he truly had earnt the right to wear the famous blue and yellow running shirt, that is the sole province runners who've reached at least 100 marathons.
A truly remarkable achievement and Gary's family were there to see him pick up his reward.
Sadly we didn't pace together but I was there to see him as he crossed the finishing line.
It was a beautiful day and the Marathon was well supported by the local community.
As pacers we were very well looked after receiving food and a post and ore race marriage.  oops Post and pre race massage.
The route is quite challenging but there's a lot of gels, sports drinks and water to keep you going.
All in all a great race and my 66th marathon
67: The Romans Invade York (Again)
York was founded in or around AD 71 when the 5,000 men of the ninth Roman legion marched from Lincoln and set up camp here.
It was fitting therefore that I run my 67th marathon as a Roman Legionnaire.
I was guiding Paul in his 292nd marathon. We finished 10 minutes ahead of Pauls PB this year so he was very happy.
The Romans turned York into a very imports Trade Centre. Today
It has an important role in putting on sporting events.
The Yorkshire Marathon is now in its third year and sells out very quickly.
It's not too hard to see why as the organisation is excellent. The route is challenging and the local residents really support the event. The public lined a lot of the route handing out sweets and encouragement. Paul really appreciated it.
The route took you pass York Minister and through a number of lovely Yorkshire villages.
The highlight was running through the Battle of Stamford Bridge and close to the site where King Harold defeated the Vikings on 25 September 1066.
Every 3 miles there was a drink station with plenty of fluids on a warm October date.
The downside is that it's expensive and even the park and ride was £7 each.
Nice tee shirt and medal with a goodies to finish.
I've already signed up for the pre sale next year.
68 Lisbon 17th October
Summer of 69
Up early to catch a flight from to Lisbon on Saturday morning for the Lisbon Rock n Roll marathon and the fourth and final leg of the European Tour.
Met Rob from Rock n Roll who asked us where we would like to see a 5th European event. Munich is the likely destination.
He also let us know that the Lighting Seeds may be headlining at Liverpool next year with a 30th anniversary of Three Lions coming out.
The organisers were concerned about the storms and wind which meant that they may be forced to change the route.
The Expo was small but there were a few freebies and we picked up our Adidas event tee shirt.
After checking in at our hotel we then went into the Old Town. Managed to tour round on the famous Tram 28 round the main sites.
Bumped into two Hundred Club runners that we know from Brum.
After partying to the wee hours we were down for breakfast at 6am.
The weather was awful and the rain was bouncing of the road.
There was free public transport for runners but it didn't start until 6:30. The race itself started at 8:30 and we arrived with 5 minutes to spare. The start was 26 miles away on the train and you then had to run back.
Decided to do my marathon tourist time and set off with the 5 hour pacer. I think he was racing me as by mile 12 we were ahead of the 4:30 pacer!
Fortunately the rain stopped as we were heading to the start line and the sun came out. It was between 20-22 degrees during the run.
There was plenty of water every 3k with sports drinks and fruit.
Sadly there were only a few bands.
Some of the route was along the front and water edge but too much was in industrial areas for my liking.
Stopped and took lots of videos of the bands and sights along the route and even stopped and had a ice cream at mile 18 much to the amusement of the locals.
The best bit was running through the heart of the City where the locals gave you a bit of cheer.
As I crossed the finish line the DJ was playing " Summer of 69″ which was poignant given I was doing my 68th marathon and have my 69 next week!
Free ice cream, cans of Coke and a well stocked goody bag were given out at the end.
Went back to the hotel for a swim, whirl pool, sauna and steam room.  As usual I was only one in shorts as a lass from Austria and a chap from Sweden came in the steam room naked!
Watched the rugby at a outside cafe before catching the last flight home at 9pm.
Another fun packed, crammed weekend. The Lisbon RnR was the poorest of the four European RnRs but still a good event
Marathon 69 "Once more unto the breach, dear friends, once more …"
On St Crispin's Day and to celebrate the 600th anniversary of The battle of Agincourt we headed to Stratford Upon Avon.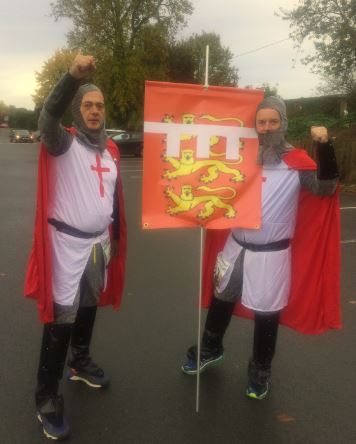 Dressed in fancy dress as an English Kight complete with the three lion standard Nick & I once more went into the fray.
Unlike Henry V's army we were not starving as Chris put on a spread fit for a King.
Like the English lining up against the French army, the runners in fancy dress were outnumbered by those in normal running gear.
Unlike the French, Chris didn't vow to cut off the fingers of every runner captured throwing litter but he made it quite clear it wouldn't be tolerated.
At the start of the race we were set off by a Heart-Wrenching Rendition of Shakespeare's Henry V by Chris
"I see you stand like greyhounds in the slips,
Straining upon the start. The game's afoot:
Follow your spirit, and upon this charge
Cry 'God for Harry, England, and Saint George!'"
And we were off…
Two loops with a number of refreshment stops with all sorts of tasty goodies.
The route took us along the canal path and then across farm land footpaths.
On the final leg we stopped for an ice cream. The locals and tourists were a bit puzzled to see two English knights with a Standard, running a marathon eating a ice cream cone!
At the end of the marathon we won first prize in the fancy and a number of nice prizes.
After tucking into a sandwich buffet we said our goodbyes and left.
As expected Chris put on another great race.
Race 70 Running Up Hills With French Guy
35 runners set off to complete 32 laps of a course near Telford.
All off road and none of it flat. The course was only 0.84 miles but included a sizeable climb and a medium climb.
After a few laps your legs were "screaming".
On a plus side there was a well stocked refreshment table which you passed every lap.
Some of the runners had completed a double marathon the day before. Today was day 1 of the November Nightmare. 15 of the field were completing 5 back to back marathons in 5 days. They have my total respect.
Whilst running the hill for the umpteenth time I got talking to another runner called Mark.
Mark was running his 98th marathon and had also run 51 ultras. We ended up giving him a lift back to Nottingham as his last bus back was 1pm!
Previously, when he had missed the last bus home or was a bit short of cash he had slept in a variety of different places including phone boxes and shop door ways. He told me about one night when he and a homeless person "cuddled" together for the night to keep warm. An amazing guy who had an amazing passion for running.
That's my 70th marathon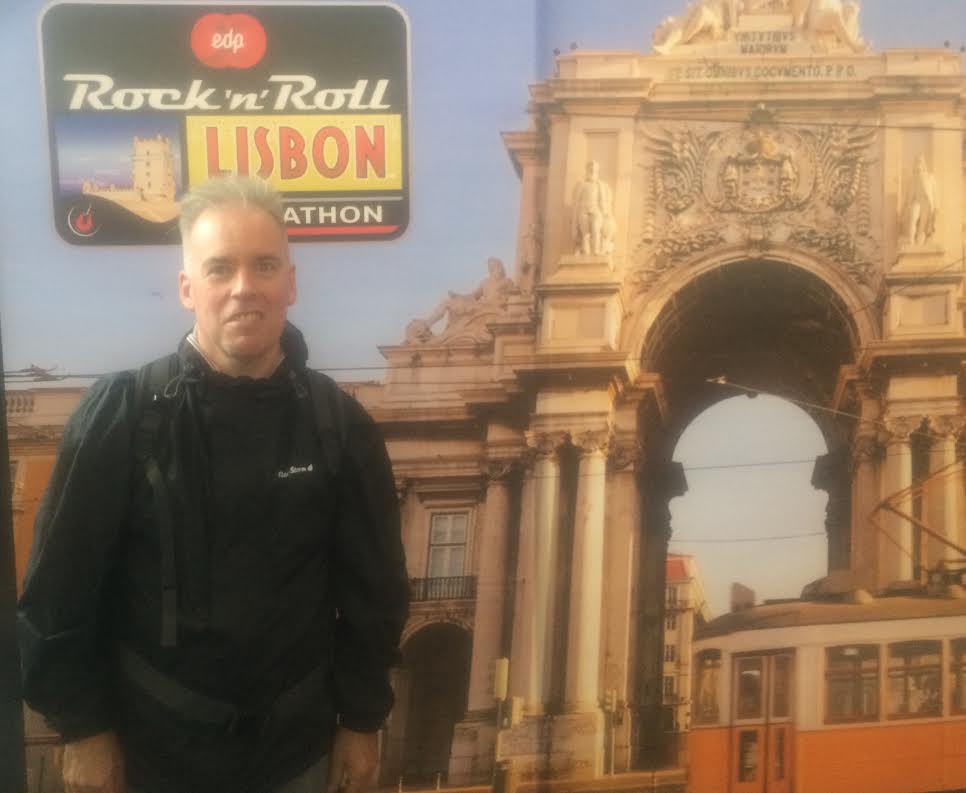 51 to 60 Romans and a foot blessing
MK
Paced at MK Marathon came within 2 seconds of my time so well happy That's marathon 51 done. Rest from running next weekend 🙁 100 mile bike ride instead 🙂   52 Leaden Boot Marathon 52 done…5000 feet climb!! Quickest runner (goat) took 4hrs 20mins says it all. It's the send time I've done The Leaden Boot. Great event 300 walkers/runners with home made cake and pie to finish. Starts with a blessing of the feet by a local vicar. All for charity and certainly the hardest marathon I've done
Mendip Challenge Up at

3am

to run the 30 mile Mendip Challenge in Weston Super-Mare The run started in the beautiful City of Wells after being bused out 30 miles away and then had to run back. The stunning views of Cheddar Gorge was the highlight. The race had 600 walkers and runners although only about 24 ran the full 30 with others doing a 20 or 10 mile option. The event was raising money for the local hospice. Having a food & drink stations every 2-3 miles was a real blessing. My 53rd marathon
Farthington Foot Fest Short trip to Northamptonshire for the  Farthington Foot Fest marathon. Another great race put on by the LDWA with beer and pasta at the end. 170 runners & walkers with about 30 runners doing the marathon. 90% off road and 75 styes to navigate. A low key event, "Thanks for coming, off you go". Well marshalled with 8 well stocked check points. Marathon 54 completed
Rock N Roll Liverpool RnR Liverpool marathon today. Came home with 3 serious bits of bling and a tee shirt. Marc Almond was the headline act. Came within 1 second of my pace time and looks like I've bagged a place in the Portugal RnR marathon. Happy Days. Marathon 55
Stonehenge & Cheltenham Marathon Left Broughton Astley at

8:40pm

on Saturday

 to go down to Stonehenge to watch the Summer Solstice. Found a field to sleep in. Didn't bother with the tent and just slept in a sleeping bag under the stars. At 

3am

 woken by the dawn chorus!! At 

4am

 went to the Stones and saw the sun rise. About 25,000 people were there. The sun came up…massive cheer and then 10 seconds later it was hid behind the clouds!!! Then jumped into the car and drove to Cheltenham for a marathon. It was a tough course not helped by having 2hrs sleep! 60 stewards and 80 signs and still a high number of runners were sent the wrong way and had to do an extra 5k at the end to make it 26.2 miles. Peace and Love
57 & 58 Another 2 Weekends, Another 2 Marathons On the back of the Herts Hobble 28 mile ultra last week i ran another ultra today. This time is was the wonderfully named From Here To There & Back Again, in sunny Northants. The LDWA as usual put on two great back to back events. Bargain prices with a wonderful selection of cakes and sandwiches. From Here To There & Back Again attracted 100 walkers and runners on a very hot and humid day. Good number of 100 Marathon Club Runners there to celebrate a new member. As tradition there's always cake when a runner joins…it would've been rude to have said "no" to a piece!!!! As I've done over 50, I'm now officially a "Wanna Be" & I've only got 42 more to do!!! Next week it's the Lions Bridge   Friends, Romans, Countrymen and Runners…lend me your ears Picture the scene, 45 AD, a year after the Roman invasion of Britain. The 2nd Augustus Legion march into the quiet rural tranquillity of Dorset. Under the command of General Vespasian, later to become Emperor. The invasion doesn't meet much resistance until they reach the stronghold of Maiden Castle a big battle ensues and the British are defeated, Dorchester becomes the Roman town of Durnovaria. Today dressed in a full Roman outfit carrying a Roman Standard of 2nd Augustus in honour, I completed The Dorset Roman Invader Marathon. There were quite a few other runners dressed in fancy dress. Including one runner in full metal armour. However it was Nick and I that won the fancy dress competition probably helped by us carrying the Roman Standard round the whole course. The Capricorn is the emblem of the 2nd Augustus legion and is a white flying goat on a red banner. A few runners camped out on the Friday night and were staying through to Sunday. There were 6 water and feed stations including 2 Lovestations so called as it had watermelon, schnapps, lots of snacks and a 'hug' to help you on the way. The volunteers all dressed in Roman outfits including a great Roman Empire. The goody bag at the end was worth the pain & consisted of a homemade individual Dorset apple cake. A limited edition roman style "sweaty muff" to wear round your sweaty head, sweaty neck or sweaty wherever. A pack of the superb Tyrrells crisps. A jar of White Star Running Strawberry jam, made especially for the race. Finally local biscuits. The medals were superb. The half marathon was based around a Roman shield design or Scutum. The marathon medal was the standard of the 2nd Legion Augustus and the Eagle of the legion. On finishing the race there were showers and a great BBQ complete with local food & hog roast. Not forgetting cakes, local ice cream, cream teas from the farm shop and a bar with local  beer & cider. The run itself was very hot through the Dorset countryside offering up some breath taking views We left before the disco started but this was a great festival of running and next year I'm doing the whole weekend. That's number 60 and 8 in 8 weekends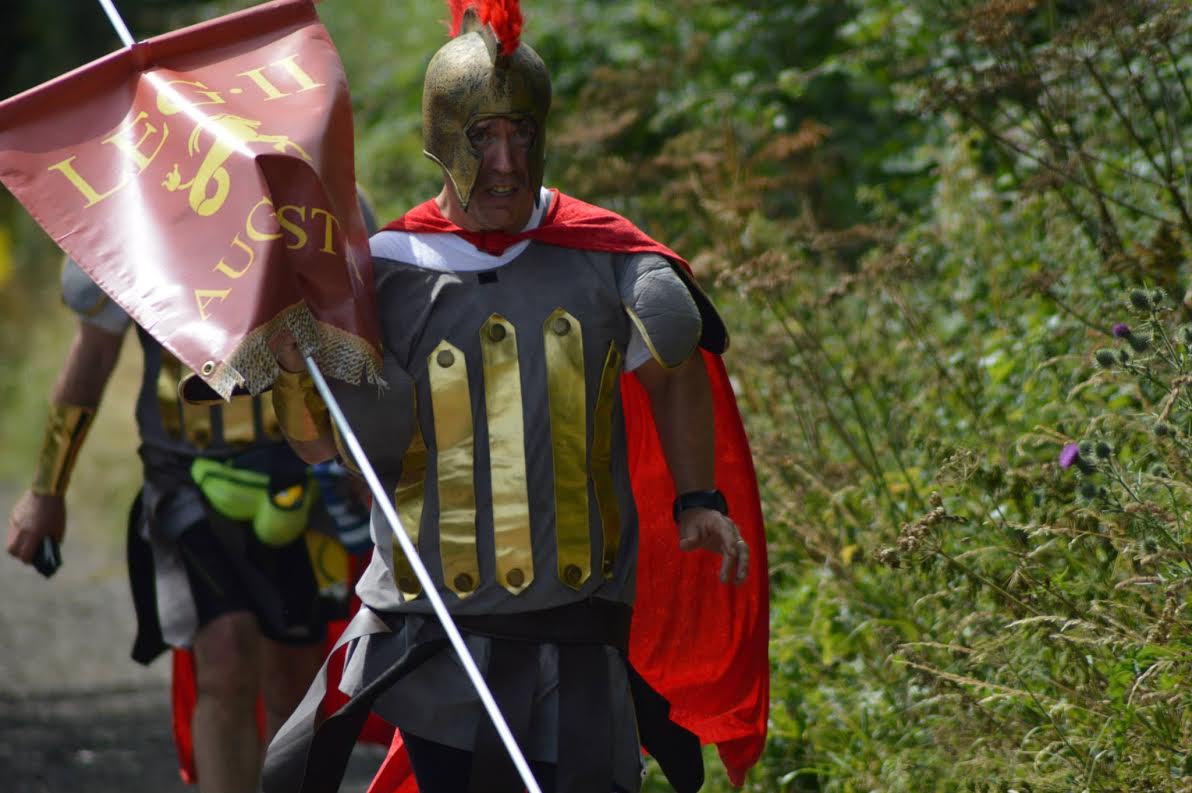 41 to 50 Valentines Day AND Paris in the spring
50. Half Way There in Madrid I was given a free entry into the Rock n Roll Madrid Marathon. Flew into Madrid catching the metro to the expo. The queue stretched for miles and it took 90 minutes to get in. We stayed in the heart of the City which was great to walk round the main sights. After checking in we went to watch Atletico Madrid play meeting some English ground hoppers who had come over to see the game. We arrived back at the hotel thinking we would get a good night sleep. Only trouble was the street party and cafe culture outside our room didn't die down until 3 in the morning! After such a gorgeous day we woke up to a cold and wet day. It didn't stop until we finished the run. The marathon took in all the main sights including the Paseo de Recoletos, the Bernabeu Stadium and the Royal Palace. With the rain pouring down the crowds were sparse. There were quite a few British runners including a few from the hundred club. The finish was at the beautiful park at Paseo del Duque de Fernán Nuñez. As you would expect from Rock n Roll the 'bling' was big and chunky. There was lots of refreshments on the course and marshals. Like clock work as soon as we finished the sun came out! There was just about time to do some more sight seeing and having a tapas before flying back. I loved Madrid and it was a great marathon to complete my 50th run. Half way there! 49 Manchester Singing in the Rain (Not) Arrived at Old Trafford to pace for the second time at Manchester. Nearly 8,000 completed the race which is now one of the biggest marathons in the country. Looking very smart in my pacer kit we were even give. A top of the range trainers. A number of runners ran in fancy dress including a 'Cheese String', Spider-Man, Batman and a rabbit! Others wore tutus and tiaras or angel wings and were running for cancer charities. You get a good tour of Manchester including Sale and Altrincham. An amazing number of locals lined the street to cheer people on. As the miles came thick and fast the number of people running with me fell from about 40 at the start to 15 at the end. Lots of hugs and thanks at the end as we finished near Sir Busby Way. I love pacing…49 marathons done
48. Paris in Springtime, the City of love but not in bunk beds! Arrived on Saturday to find the hotel didn't have details of our reservation fortunately there was one room left. The previous guests had obviously taken the chairs as the only bit of furniture in the room was a bunk bed! The expo was massive. The only UK race with a stall was the Chester which I'm pacing at. Lots of other interesting places to run across Europe. Like all good marathon runners we hit the bed early. NOT! Instead we went to watch PSG win the equivalent of the FA Cup 4-0 eventually getting to bed at nearly 1 in the morning. Up at 7am to make our way to start the line. Decided to do a bit of tourism marathon running and we set off with the 5:30 pacer. It was obviously his first time as he set off like a bat out of hell. At 6 miles we hadn't run over 10:30 minute miles. The runners  were complaining but still he pressed on. It was until mile 13 that the 5 hour pacer came pass us! That seemed to give him another burst of energy and we were doing 4:30 pace. Mile 14 was done at 10.15 pace and the 5 hour pacers were just 200 meters ahead at mile 15. The wheels then came off as he crashed walking more and more. By this time from a group of 50 there were 3 of us running with him. I then left him walking and instead took a few runners in at the 5:30pace they wanted. I found the run a bit dull to be honest. Stopped and took lots of photos and video and singing with a number of bands that were playing along the route. You don't really run near the main attractions and only see them from a distance. There was plenty of water and fruit along the route to cater for 64,000 runners. I'm not that bothered but the tee shirt and medal was poor and not a patch on Rome. Instead of having me down from GB the country they had me down for was Afghanistan! Nick was from Bosnia and Herzegovina . I reckon there weren't many from our respective counties and probably explains why runners from over 150 counties ran the race! After the run had a quick look round Notre Dame before catching the flight home and work on Monday!!! Marathon 48 done….Manchester next week.
46 & 47 Charmwood & Daffodils My 47th marathon today the beautiful named the Daffodil Dawdle. After last weeks Charnwood it was another tough course over the weekend of at Easter before flying out to run Paris
45 Shakespeare Spring Marathon Marathon 45 done in the morning Shakespeare Spring Marathon then up to Chesterfield to watch Cov City win . Happy days
43 & 44 Cambridge & Chiltern After last weeks poor Cambridge Boundary race which turned out to be 29.5 miles It was good to run the Chiltern Kanter. Costing only a mere £6 it was excellent value with great refreshments on the way round and a dinner to finish with you couldn't complain. The Kanter was the first run I've done where you had to find clues going round. It was like a treasure hunt and made a real change. That's 44 marathons I've done now and the Kanter is up there with the best.
42. Talk Fishing & Heartbreaker One of the joys of getting up early on a Sunday is that you get to listen to Talk Fishing at 6-7am. A cult show on TalkSport. This week Nick decided to ring the show to speak to the host Nigel about the comparison between fishing and marathon running. 20 minutes later Nick got an offer of a free taster session as Nigel talked about both sports love of the outdoors and that fishing would be a good way to relax after a marathon! A three hour journey later and we are running the Heartbreaker Marathon in the New Forest. It certainly lived up to its name as a challenging course took us up and down the hills in the New Forest. A biting wind and heavy rain topped of a hard run. Didn't recognise anyone today as most of the usual runners ran the day before. A tough course to run my 42nd marathon but I got to run with a radio celeb!
41: Valentines Marathon What do you do on Valentine's Day? Spend it with your love one? No…you do the Valentines Marathon at Stratford Upon Avon. Chris as usual put on a great race, top quality food at the end and a decent goody bag. Most of the usual crew turned out today including Jane who completed her 100 marathon ( one day). I loved the celebration cake! Running round Shakespeare country and taking in the Bards mothers home and his burial place were two of the highlights. Part of the run was really muddy but that just added to the fun!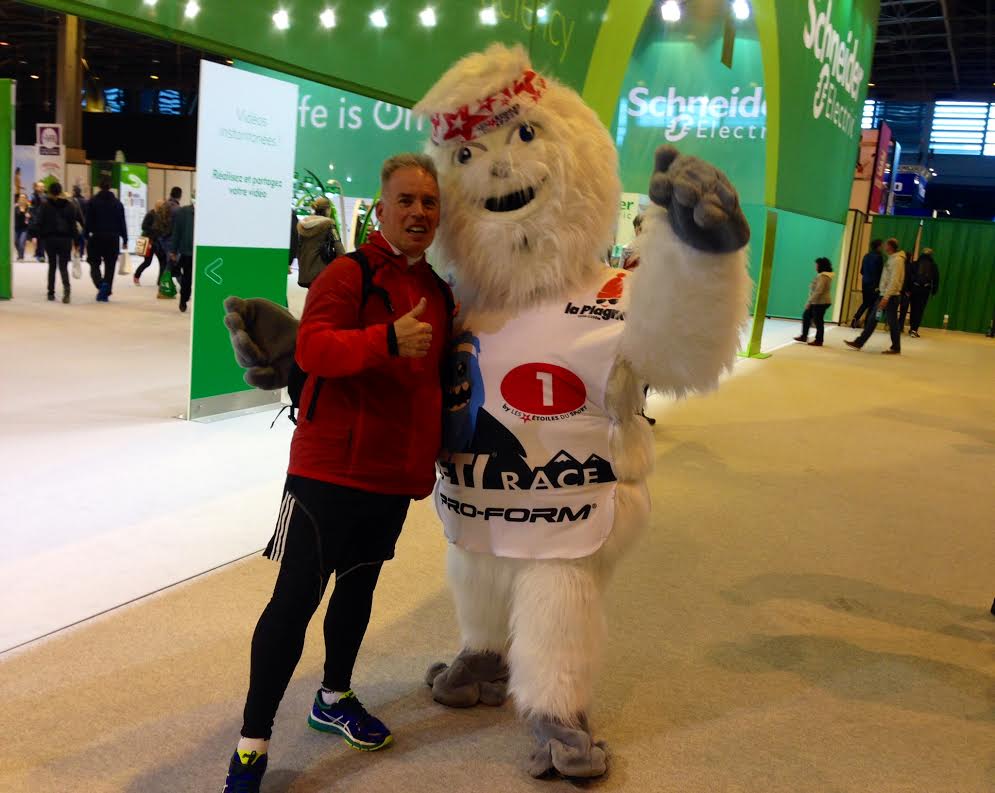 31 to 40 Caravans and Cold Days
31. Shakespeare 15/11/14
There's something mad when 1000 runners turn up to run round a disused runway in Stratford. A mixture of runners doing the 5k,10k, half and full.
The race sold out mainly through word of mouth.
If you were doing the full you got to run round the runway a joyful 8 times.
The race is run to support a local charity and is well laid out and marshalled.
Totally flat so you can do a PB. The tarmac is unforgiving and the course does drain your strength.
I started off on my own over 2 hours before the start of the race. The organisers agreed an early start so I could get to watch Coventry at home.
However given they lost (again) I wish they hadn't!!!
32. Cleethorpes 23/11/14
Forget London, Venice, Rome, New York, the must do marathon for all runners has to be the Maravan in Cleethorpes.
Named the Maravan as it's held at a caravan park.
You get the chance to run 7 times round various very quiet caravan sites. All with beautiful sounding names such as Palm Springs and Cherry Tree Lodge.
The caravans were all static mainly 6-8 birth but some of the newer ones were 8-10 birth. A few had their own balcony's which were very impressive. A number were for sale and I took down their details. New ones for sale come with free rent in 2015!
It was very sad though to see one burnt out caravan and we stopped to pay our respects.
At every corner there was a chance to see more caravans! The only break was running round an empty 18 hole golf course.
There were also plenty of toilet and shower blocks along the route.
Despite having to leave at 5am the race lived up to all my expectations.
There was just over 30 of us brave enough to run in the cold and rain. Some would call us mad but this was the chance to make history by running the inaugural Sunday Maravan. We were envious of those who also ran the race on Saturday.
Parts of the course were flooded and quite muddy under foot, this just added to the enjoyment.
Darren the organiser, did a great job putting on the race which included a refreshment station with all sorts of goodies.
There was even an Maravan expo on Friday night.
Nick and I again guided blind runner Paul Watts for his 275th marathon. Paul's a great lad and a real laugh. Despite slipping on the mud and cutting his knee he carried on without a moan.
At the end we got a local goody bag to die for, local beer, crisps, rock, local raspberry fruit drink, and chocolates.
The medal was based on the emblem of the first local life guards. A quality touch and the best medal I have.
We've already signed up for next year…I can't wait
33. Broadmeadow 29/11/14
Marathon 33 completed, my 31st since Feb! Great run at Broadmeadows, Stratford Upon Avon…..
A cold, dark day as we ran round the sites of Shakespeare's home.
Chris put on another great event with hot food to finish.
34. Hardmoors 14/12/14
"It's Tough Jim, But Not As We Know It!"
Ran the Hardmoors Roseberry Topping Trail Marathon….30 tough miles across the Yorkshire Moors.
Some of the local runners were made of granite and flew up the hills and climbs.
There were parts where you were running on ice but sadly no snow!
Came home in pitch darkness. It was a good job we had to wear head touches. The last few miles were across a really narrow ridge in freezing rain.
Really well organised and certainly to date the toughest race I've ever run.
35. Portsmouth 21/12/14
Last marathon of the year. Up at 4am to drive down to Portsmouth . Great marathon. My best time of a challenging trail course into a strong head wind.
I've been suffering from runners knee and following all the exercises paid off as I didn't have any problems. Well pleased.
That's my 35 marathon and 33rd since feb.
A week off now!!!
36. Winter Enigma MK 5/1/15
"Yesss"
"Yessss" I shout….,"Yessssss!!!" This time even louder.
"Have we won the lotto?" asks my wife.
What? No, I replied, "I've got into Foxy's marathon!"
"Your mad". I must admit she did have a point.
It's 11pm at night and Foxy emailed me to tell me that a place had just come up in the Enigma Winter Marathon.
It's the only marathon in Europe this weekend. 50 places and it reads like a whose who of marathon runners.
"I'm off to bed!"
I wake to find a winters icy scene. It's minus 2 and freezing.
I arrive to find that the race has been delayed and it's likely to be postponed as its unsafe.
At 9:30 Foxy announces people who want to run can sign a disclaimer to run at your own risk or you can defer the entry to another race.
Takes me 1 second to decide and I'm second in line to sign the disclaimer.
At 10am the field has been reduced to 12 of us. Quality!
7½ scenic laps of Caldecotte Lake. I loved it.
Yes you had to be careful, yes the sweat on my head turned to ice but it's the sort of run that will go down as "I was there".
To crown a top day every lap you had an opportunity to have one of Mrs Foxy's homemade brownies.
Marathon 36 for me and without doubt one of my favourites.
37. Winters Tanners Surrey 11/1/15
Better than the January Sales
30.5 miles of beautiful Surrey countryside. The Surrey Downs were truly spectacular. The course was all off road and very boggy in places. Nearly 400 walkers and runners ventured out on a cold January morning.
With 3 refreshment stops with snacks and hot and cold drinks at £4 it was an absolute bargain.
Very few of the usual marathon runners. Most opted for a 26.2 road race in Kent.
It worked out at 13p per mile, making it's the cheapest marathon I've done.
38. Braintree Boggle 18/1/15
Completed the Braintree Boggle in Essex today.
As a kid I used to hate cross country. I remember coming first once, I swear I took a wrong turning and for 2 years my PE teacher selected me to represent the school hoping I would regain my form! I never did.
Now I pay for the privledge. A bargain £8. Lots of snacks at the check points, hot drinks and a pasta meal to finish.
The course had about two and half miles of road/tarmac track/concrete track the rest was trail with lots of sticky field crossings.
Some paddling through some muddy water made it the perfect race.
About 80 of us ran it. Met a great chap Ivor from leics who as a result of a dodgy knee ends up having to walk races now. It was his 234th marathon today. Truly amazing and a nice bloke.
My 38th marathon and one of the better ones.
39. Wilmot Wander 25/1/15
Beep Beep The Roadrunner
Another bargain LDWA event.
The first Wilmot Wander took place in 1992 and is run by the local Scout Group.
Sadly with the decline of local Scout Groups they opened up the event to walkers and runners.
It still has the feeling of a "good walk". The route is a circular path starting and finishing in the Scouts HQ.
The checkpoints as you would expect were filled with a good supply of sandwiches and cakes.
The route takes through lots of muddy fields, steep inclines and across too many styles to count.
The most interesting part was when you had to cross the busy A38 dual carriageway. It was like a scene from the cartoon Roadrunner as we darted between the traffic to find a small hole in the hedge where the footpath recommenced.
However despite good signage we still got lost at the end and a 32 mile ultra turned into 35 miles of pain running round the boundary of Derby.
Having gone to Derby County's ground quite a few times it was ironic that this was the part we got lost!
Eventually we found the route and finally ended up back at the HQ for a well earned rest and hot meal
40: The Punch Bowl After a weeks rest i was up early to run the Punch Bowl ultra marathon. 30 miles through the scenic Surrey countryside. There was so much sand in places it was like running on a beach. Some of the houses were stunning. Highlight was running on the old A3 ridge which had been grassed over and provided a wonderful view of the so called "Devils Punchbowl'. 150 runners and walkers started running either 20 or 30 miles. At a bargain £6 with three food packed check points and soup, beans on toast or sandwiches to finish it was a Bargain price. Didn't see any of the normal runners. My 40th and Nicks 31st marathon.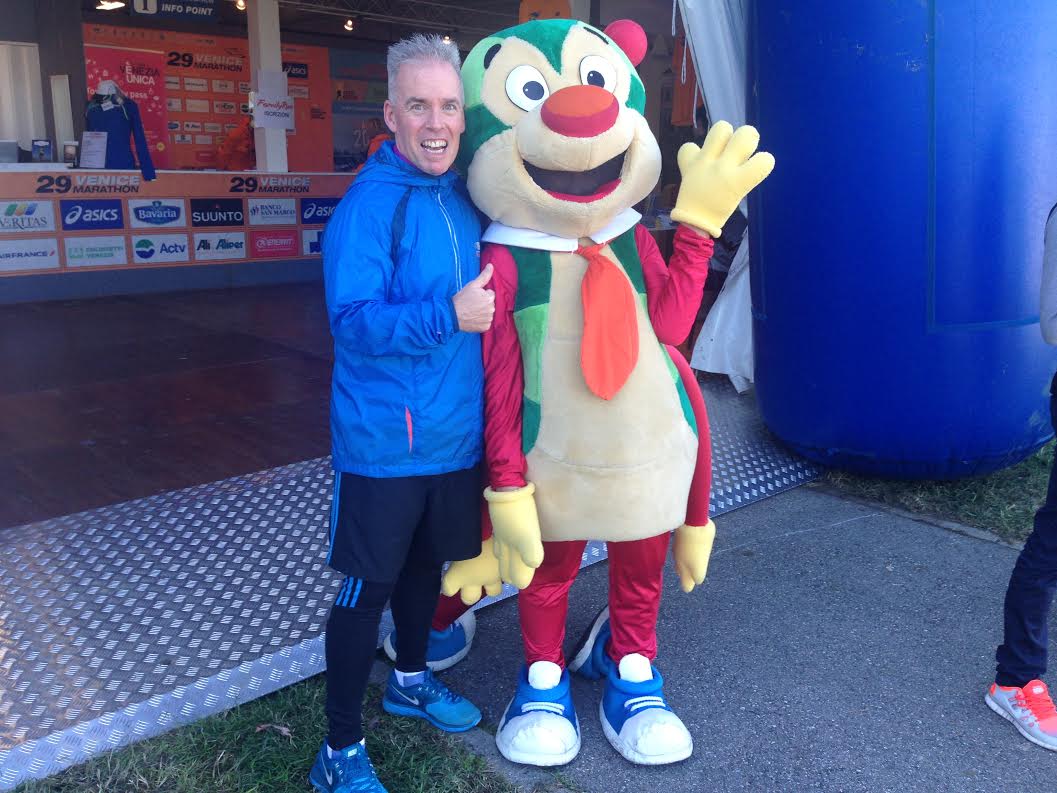 21 to 30 men in tutus and romance in Venice (or not)
Leilas Marathon 21/8/14
of Garden City runner Leila, who lost her battle against cancer.
The course was based on one of the training runs Leila used to run.
Leila was also a member of the 100 Marathon Club running over 200 marathons.
The 100 Marathon Club was out in force for a superb low key event. The Butterfly fan completing number 999 and fittingly he was given race number 999.
Before the start 8 members of the 100 marathon club were presented with a trophy for doing over 500! There's 15 members in the club that have achieved this amazing landmark.
Only £15.00 with all profits donated to Leila's Hospice
Sandwell 6 Towns 24/8/14
The marathon caravan pulled in for the Sandwell 6 Towns Marathon.
A bargain £5. You can't moan at that! The LDWA certainly know how to put an event on.
Run in conjunction with the Sandwell Show and linked the 6 towns that make up the borough of Sandwell. The route was a mixture of country parks, open spaces and canal towpaths.
The highlight was going through the 1.75 mile famous Netherton Tunnel. Wearing a head torch we ran at pace through the recently refurbished by British Waterways at a cost of £230,000
I dedicated the run to Brian who completed his 1000th marathon today. Total Respect
Halifax Marathon 31/8/14
The marathon caravan headed to West Yorkshire for the first ever Halifax Marathon.
A field of 250 split evenly between those running the full and those doing the half. Hardly any familiar faces but Robbie the Flying Scotsman was there.
A brutal start with a 3 mile climb. It was the quite undulating until mile 8 when we ran along the canal path.
The Yorkshire definition of a "small incline" is very different to mine. I would describe it as a mile hill!
The full marathon runners had the joy of running the course twice.
Well marshalled with a water station every 3 miles. What was disappointing was there was no gels or sweets/food.
Stunning scenery but an average race.
Dedicating the race to Coventry City fans going back home to the Ricoh
Wolverhampton Marathon 7/9/14
A Bit Of Bully
This week the marathon on tour pulled into Wolverhampton. About 90% of the field completed the half marathon leaving 250 runs to do the second lap and complete the full marathon. A few familiar faces in the field .
There was good community support with a few locals offering drinks, sweets and fruit. There was a water stop every 2.5 miles which was needed.
Very well marshalled & I would certainly run it again.
This was my 24th marathon and next week I'm running as a guide runner to clock up 25 marathons .
Chesterfield Marathon 14/9
A Quarter Of A Century
Short trip up the M1 for the first ever Chesterfield Marathon.
A superb race, very well organised and a great route.
What made it particularly special was I had the pleasure in guiding blind runner Paul Watts round the course.
It was the first time I've ever been a guide runner and I must admit being a bit nervous.
Paul reassured me and soon put me at ease. Having done a staggering 268 marathons. Paul started off at a staggering pace. I soon learnt the more I sang the faster he went! When I stopped singing he slowed down.
Paul made the run enjoyable by telling tales of various runs he had done.
All around the course the local people were out in force with drinks and sweets.
The crowd were rightly warmly supportive towards Paul and gave plenty of encouragement.
The course itself twisted and turned round Chesterfield. The highlight was seeing the Chesterfield spire.
Very well marshalled, road closures through out and drinks and gels at every 3 miles.
A decent runners bag, fruit and a 1.5L of water at the end.
Would I guide again? Definitely I've arranged to support Paul again next week.
At £45 the Chesterfield is a pricey run but it all for a worth while charity. Given it was there first one it was a very good race.. Certainly one to consider doing again in 2015.
Hereford Marathon 21/9
Another weekend and another marathon.
This time the Hereford.
The marshals were top draw and with drink stations every 1.5 miles offering water, energy drinks and gels you couldn't complain about the refreshments .
What was disappointing was the lack of imagination with the route. Twice round and one bit three times was poor.
I have the pleasure in guiding blind runner Paul Watts again. With no road closures and having to run on uneven pavements, dodging round cars and running on A roads Paul posted a cracking time.
It's really humbling that he puts total faith in you to avoid him falling.
It's also not until you realise how important the route is or the real benefits of road closures are until you run with a blind runner.
Paul has now done a staggering 269 marathons.
We were also joined by mate Gazza and we sung most of the way round.
Paul shared more tales of various runs he had done which helped pass the time.
Being Paul's home town he know a lot of people and they gave him plenty of encouragement.
Paul's off to Loch Ness next & I look forward to seeing him in a couple of weeks at Chester.
27. Nottingham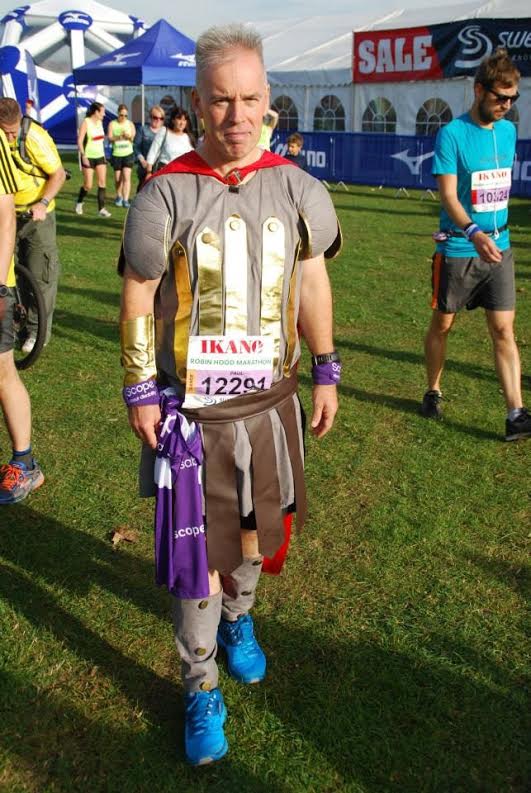 Nottingham Marathon 29/814
When a photo says it all.
I'm just about to run the Nottingham Marathon for Scope.
I tied my Scope running shirt onto my belt.
With two daughters with a disability it meant a lot to me.
28. Chester Marathon 5/10/14
After the short trip last week to Nottingham I was up early to pace at the Chester Marathon. 4,500 runners and my 28th marathon. Fantastically organised from start to finish. Received a warm welcome from local communities in both Wales and England.
As Nick crossed the finishing line the PA said "Here's Nick Allars a runner with Huncote Harriers…how do we know he's a Huncote Harrier? Simple he's wearing a tutu!"
Priceless.

29. Venice 26/10/14
Romance in Venice
So do you take your loved one for a long weekend to Venice, have a romantic gondola ride and meal or stay for one night with a mate and run the Venice marathon. It's a no brainer….
After landing we headed for the hotel. The expo was in the middle of no where and the "short walk" turned into a 3 mile hike!
After a good walk round we filled up with local pasta and chilled.
Venice is a beautiful City and hosts a beautiful marathon.
Running across a bridge of floating boats and through St Marks Square were the highlights.
Having an ice cream at mile 18 and a class of red wine from one of the locals also took some beating.
The Italians were as stylish as ever, no fancy dress which made me the fatest runner in a tutu!
At the start you get transported out of the City by bus and then have to run back. The route takes you alongside the river winding through some small villages.
Crossing the 3 mile bridge into the old town was wonderful. You then run round the back streets of Venice away from all the tourists. Then at the end of the race we were transported back along the river to catch a bus back to the train station. It wasn't quite a gondola but it was a great experience.
There was just enough time for a bite to eat and a coffee before catching the flight home.
Breath taking
30. Stevenage 2/11/14
The Stevenage Marathon is a bit like marmite, you either hate it or love it!
If you like underpasses then get yourself down to Stevenage. The town is very similar in design to Milton Keynes.
It's a dull marathon but the marshalling was top draw. The Marshals stood by their post for 6 hours in the cold and wet cheering every runner.
A lot of hard core marathon runners braved the wet to grind out another race….
I started off well but ended up hobbling home as a result of my runners knee.
Not a particular memorable race.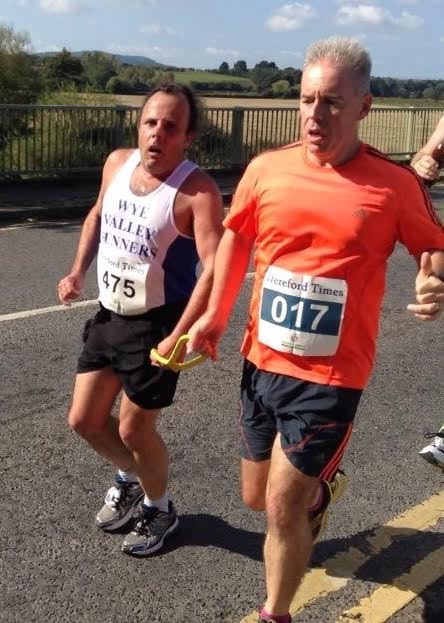 11 to 20 - including a THIRTY ONE lap marathon.
11. Stroud Trail Marathon 12/5/14
The Strange Case Of Jekyll & Hyde
My 9th Marathon since Feb and one of contrasting halves.
The first was well signed and there was no complaints.
In contrast the second half was really poorly signed. It was a real Jekyll & Hyde marathon.
In total there was over 2500 feet of climb and I was dead on my feet at the end! We even got to run an extra mile making the run over 27 miles!
There was however fantastic views along the Cotswold Way.
Disappointedly, at the check points there was only water for the first half and no food or gels.
As we approached the point where the half marathon runners turned left and the full marathon runners turned right we were told,
"There's food just round the corner".
It was music to our ears…..stepping up the pace to run up an incline the refreshment station came into view.
I was looking forward to having a sports drink, jelly baby or two or even a Jaffa Cake. I'm not one for having a lot, unlike Nick who thinks its a picnic spot.
"Help Yourself" the Marshal states.
I look down at the table. My eyes are obviously deceiving me. I look at Nick and he like me is scanning the table in disbelief.
Then we spot it…there's one banana amongst a few cups of water. There's absolute nothing else.
"Help Yourself?" I questioned.
Both Nick and I just laughed. I think Nick would've fought me for the banana but it was totally black.
"You have it", I said.
Nick replies, "It's ok, it's all yours".
"Have you got anything else?" I ask.
"Nope"
We just laughed and had a quick drink and carried on.
As we continued the signage just disappeared. We met other runners who were as confused as we were doubling back on themselves.
We lost a lot of time deciding what way to take or not.
Eventually we came in at least an hour longer than we expected and we weren't the only ones.
I certainly wouldn't run it again.
12. The Leaden Boot Challenge 18/5/14
Only For Goats
The Leaden Boot Challenge was the hardest marathon I've done so far.
In total there was 5800 feet of ascent. The winner took nearly 5 hours. He must have been a goat!
When I finished there were still 180 runners/walkers out there.
The race started with a "Blessing Of Your Feet" whilst we sung William Blake's "Jerusalem". Quality.
The local vicar then sprinkled holy water over your trainers. I asked for extra over my knees that were sunburnt after catching the sun.
As it was such a hot and demanding run I needed all the help I could.
Amazing views, excellent organisation and food.
At the end you got a "patch" of honour to sew on to a garment and home made pie.
13. Liverpool Rock & Roll Marathon 25/5/14
I paced for the first time at the Liverpool Rock N Roll marathon.
There were lots of first timers marathon runners who were reassured when I told them that "I've never run a marathon before" and that I was a "very competitive pacer" and that "I wanted to come ahead of the two faster pace groups in front of us!"
After I explained that I was "only joking" I set of with a large group of runners.
The route takes you through the heart of Liverpool and pass both Liverpool and Everton's football stadiums.
Lots of good points, quality medal, tee shirt, road closures, drink stations etc
Even got a free pair of CEP compression socks worth £40.
Downside it was advertised with music every mile. There was however very little music and live bands…still my singing more than made up for it!
Got some nice feedback at the end although a few runners suggested I needed singing lessons.
14. Littlehampton Marathon 31/5/14
Mrs Beeton & The Full English Breakfast
To make a good full English breakfast you need bacon, eggs, sausages, tomato, mushrooms…..
Or instead you can be one of only 150 runners to run the Littlehampton Marathon & at the end you are rewarded with a Full English.
The trail marathon takes you up the river Arun and pass the beautiful Arundel and Amberley Castles and up onto the South Downs and back.
Or it would if you followed the instructions. Instead you can turn a marathon into an ultra and run for over 6 hours that your Garmin loses its battery life.
They were just about to send out the search party when I turned up!
I had certainly earned my Full English.
A traditional English breakfast can only be truly be described as such if in the words of legendary cook Mrs Beeton it is "hearty".
Mine certainly was!
15 Telford: The Holly Challenge 14/6/14
"All Around Me Are Familiar Faces
Worn Out Places, Worn Out Faces".
Tears For Fears & later Gary made the lyrics famous singing Mad World.
The Holly Challenge Marathon was build as a small marathon in small places.
It certainly lived up to that reputation as you ran a mere 31 laps of the same course. As each lap passed the lyrics of Mad World rang true…"Going nowhere, going nowhere"!
On a plus point every time you passed the check point it gave you another chance to take advantage of the well stocked drinks & food table.
At the end one runner was presented with her runners shirt and medal as part of the 100 Marathon Club.
I obviously didn't read the small print as I was expecting to run over The Iron Bridge of Telford! You can imagine my surprise on lap 2…7..15…23…27…etc as we were just running round in circles.
Note to self read the small print or at least read about the race you are running!
At the end you got a nice engraved pint glass.
Despite this I did enjoy the race but laughed my head off at my stupidity when I got back to the car. I also had to apologise to Nick who was looking forward to seeing The Iron Bridge!!!
16. Malvern Midsummer Marathon Worcestershire 21/6/14
Stung In Places I Didn't Know I Had!
Malvern Midsummer Marathon is put on by the Heart of England LDWA. It consisted of 4800 feet climb which at times felt like it would never end.
You only had to pay a mere £10 to experience the pain! You also get a "free" opportunity to be stung by thistles or nettles and cut to shreds from brambles.
I'm not sure why anyone would put yourself through this but I loved it!
During the run I met the married couple who hold the world record of completing marathons together. A mere 850!!!
At the finish you got some apple crumble and Savlon Cream!
17. Giants Head Marathon 28/6/14
Marathon 17:
I Am A Cider Drinker
The marathon caravan pulled into the Giant Head Marathon in Sydling St.Nicholas Dorset.
Some runners camped out the night before.
The run is off road and really hilly. It's put on by White Star Running and has received excellent reviews and won the best marathon of the year award.
Some usual suspects including Marathon Man doing his 989th run, chap completing his 300th, one lad half way through doing 365 marathons in a year!
Breath taking scenery of the Sydling and Cerne valleys.
Knew it was was going to be a good run when the Race Director said "It's not a race, eat the cake & enjoy the cider.
At mile 2 you got cheered on by a naked farmer sitting in a old metal bath tub…I kid you not.
Mile 8 photo opportunity with the world famous Cerne Giant.
To finish you got a quality tech
tshirt & a giant medal.
There was also a hog roast after party and a ice cream van serving giant ice creams.
One of the best marathons runs I've done.
18.The Enigma Summer Festival MK 5/7/14
They Must Be Mad
The marathon jamboree rolled into Milton Keynes for The Enigma 2014 Summer Festival Marathon.
A good run 7 and a bit times round a lake. A lot of usual faces. Some doing the marathon in the morning, the ultra in the afternoon and then the marathon again on Sunday morning.
Madness but total respect

19.Grand Union Ultra Marathon 13/7/14
Mr Grand Union Makes Exceedingly Good Cakes
The Grand Union Ultra Marathon consists of running 30 miles along canal toe paths.
There was a very good selection of food & drinks to break up the miles. However, I did think it was a touch early at
8:30
in the morning to be offered a beer.
At the end you were served home made lasagne and cakes to finish. Even Mr Kipling would've been impressed.
Heaven
20.Salisbury 54321 Trail Marathon 10/8/14
Marathon bandwagon stopped at Salisbury. The 54321marathon was excellent & certainly worth the journey down.
The 54321 is a trail marathon for both walkers and runners. It raises money for local Charities and starts and finishes at the local fire station.
The highlight was passing lots of historical sites including the smallest spire in the country.
It takes its name as you pass through
5 Rivers
4 Hills
3 Large Country Estates
2 Castles
1 Cathedral
Met Jimmy today doing his 530th odd marathon at a time of 3hrs 52min. What made it even more amazing was that he was 72!
The Butterfly Man is now only 2 away from 1000 marathons #respect
Puts my 20 to shame!

1 to 10 - let the madness begin
Chester 6/10/13
Let The Madness Commence
It seemed that I had only just gone to bed when the alarm went off. As I climbed into the car it was still dark.
We arrived at Chester race course in good time. There was a small expo and a real buzz about the place.
Just before 9am we lined up in our race pens.
I had run 22 miles once before today and had run 5 half marathons around 1:45 pace.
I decided to run with the 5 hour pacer who introduced himself as Gary. (Little did I know at the time he would become a good friend and that later we would pace together and run in Iceland together.)
Gary was dressed as an Incredible and was reassuring people about the run ahead.
We set off at quite a fast pace and after 3 miles I was saying to Nick we needed to slow down as we wouldn't keep the pace up.
Gary reassured us not to worry and that we needed to bag a bit of time for the hills and to take it steady in the second half.
For the next 5 miles Gary took the michael out of my accent and for supporting Coventry.
I was just about to tell him to "put a sock in it" when he said:
"How far have we run?"
I looked at my watch and couldn't believe that we were nearly at mile 9 and a third of the way there.
Gary smiled. I then realised that it was all done in good humour and that he was just trying to relax me and take my mind of the run.
About this time he started playing music through a pair of speakers and we ran to the beat of the music singing various classics along the way.
We were still ahead of schedule but at mile 11 the pace was a bit too much for Nick and he dropped off the pace.
At about mile 16 Gary said he would slow down to come in at 5 hours. I was going to stay with Gary but he encouraged me to continue and finish ahead of him.
I found out that the role of the pacer is to encourage people to beat him/her and to push on when ever possible.
I carried on at a quicker pace and finished around 4:30.
I thanked Gary for his support, swapped mobiles and a good friendship started. Gary explained he was running again at Portsmouth and we agreed to meet up then.
Nick found the last part of the marathon quite tough and came in before the 6 hour deadline.
I couldn't wish for a better marathon to start with. It was very well organised with lots of refreshment points.
I loved the fact that you crossed the boarder into Wales and then back into England.
The Welsh community were really supportive, reading out the name on your bid and really encouraging you.
As you entered the final stage running down the last furlong of the race course the PA called out your name and congratulated you on a brilliant finish. It made you feel that you had won the race.
With my finishing tee shirt on and a gleaming medal around my neck we got back into the car for the long journey home.
I loved the race, the people and was already looking forward to my next marathon in Portsmouth.
2. Portsmouth 22/12/13
Roll Out The Barrel
"How Much?"
"Your kidding!"
I couldn't believe how much it cost to park your car on a Sunday near the front at Portsmouth.
Fortunately Nick was paying as I was driving.
However, it wasn't until the start line he confused that he refused to pay the £10 and put in £6 which meant we had to run the marathon in under 4 hours.
"You're having a larf" I told him in my cockney accent.
"Well, if you don't make it, you can pay the fine!"
With local bagpipers playing we sped of along the front cheered on by a reasonable crowd.
There was also a reasonable turn out of runners.
The stretch along the beach running on shingles was hard. There were a few well stocked refreshment points. The best was half way round when we were offered rum! It was certainly the favourite stop and I'm not sure if all the runners left the stop or managed to stagger home.
After Nick had a wee drop we soldiered on.
By the time we reached the beach again the tide was in and we had to take a route through terraces houses. The locals kindly provided fruit and sweets as we weaved our way through.
Then at mile 20, the wheels came off and Nick hit the wall. I carried on aiming to beat the traffic warden.
Fortunately, we never got a ticket but did receive a nice cup of hot soup to finish.
The Pompey chimes rang loud and I really enjoyed the run.
3. Longman Brighton Trail 29 miles ultra 2/2/14
Where's The Pizza Hut?
Up very early for a trip down to the seaside.
At the pre race briefing we were told that the route was well marked and that the various routes all set off and back from a "pizza van".
As we headed up on to the Sussex Downs it soon became apparent that the route was poorly marked.
After about two hours we stumbled on the "pizza van". As we did a group of 3 miles came up from a hill below. They were doing the half marathon, started earlier and complained that they already run 12 miles and were heading back.
We had a small slice of pizza and off we went.
At times it felt like we were running round in circles. After about 15 miles Nick hit the wall and said he was going back.
Fortunately he found the pizza van, had a few jelly babies and carried on.
We met up again at mile 20. I was on the top of a ridge with a few other lost runners and Nick was down below with another group of equally lost runners.
Eventually both of us ended up at the finish line not sure how we got there but our Garmins were showing we had run more than the 29 miles.
A lot of the runners were complaining about the poor signage and the impossible to find Pizza Van.
This is certainly one race I wouldn't do again
4. Valentines Marathon 15/2/14
"Love Is In The Air"
Tradition has it that you tell your loved one that you "love them" on Valentine's Day.
Rome or Paris are popular destinations for a long romantic weekend away.
My wife, Angela hinted at a break in Amsterdam.
"There's a great marathon in Amsterdam. Let me check". Before I could log onto the Runners World website, Angela explained…
"A weekend away doesn't involve you running and it certainly doesn't involve Nick coming!"
"Oh!" I replied looking sheepish.
We didn't book the trip instead I ran the Valentines Marathon.
I enjoyed the run. I didn't find love that weekend but I did realise that there are more important things then running a 100 marathons such as….
5. Belvoir Challenge 1/3/14
I've Put On Weight
Considering one of the reasons I started running to lose weight it's ironic that I reckon I put on weight whilst running this race.
It's a lovely relaxed race/walk around the Vale of Belvoir with a number of well stocked cake stops.
"What cake did you bake?" asked Nick at every station.
If there were 2 or 3 helpers or if they had baked more than one type Nick assisted we tried them all.
We arrived first at the first check point. They thought we were elite runners but we explained we were allowed to start early as I was going to football!
My slowest time for a marathon and I missed some of the game but with the home made cakes it would've been rude not to.
If Carlsberg put on races they would all be like the Belvoir Challenge.
6, Rome 21/3/14
When In Rome ….
PART 1: The Airport
It's about 6am and we're at the airport queuing to have our baggage checked. We're a bit bleary eyed but seasoned traveller Nick "Last Minute Dot Com" is smiling and nodding to fellow travellers.
I've got a small rucksack and pull out my bag of 50ml toiletries ready for inspection.
Nick in contrast has an enormous rucksack.
"We're only going for one night! What on earth have you got in there?" I enquired.
Nick just smiled. The queue at this point was still snaking round and there was about 50 people in front.
Then Nick's eyes focused on my small bag of toiletries.
I could see the sheer panic in his face.
In one swift moment the rucksack fit for a climb up Everest was up over his head and onto the floor.
In doing so he nearly took out the immaculate dressed Italian couple behind. The chap had already given us a disbelieving look re our dress sense.
He was wearing jeans, a smart crew neck cashmere jumper and shirt, a nice pair of suede brown shoes, with a matching jacket, topped with a casual scarf. He looked like the cover of a men's fashion magazine. He also had a flight bag with wheels that oozed class.
In contrast we had decided to travel light and were head to toe in lycra. To spare our modesty we had a pair of running shorts over our black leggings, topped off with a pair of running trainers.
Nick though was completely uncoordinated in his choice of kit as nothing matched.
As Nick 'hit the deck' the Italian gave him a disapproving look.
However, what he didn't know was the fun and games was just about to begin.
Nick had packed enough stuff for at least a week and obviously had packed in a hurry.
His rucksack was now open. I half expected there to a tent in there amongst all the other stuff that he clearly didn't need.
He was frantically searching inside the bag. Stuff was coming out onto the floor as Nick was desperately looking for his toiletries.
However, he hadn't put them in a nice clear bag! They were all lose.
By this time the queue had moved and a gap was forming between us and the people in front.
The Italian was getting more frustrated and clearly wanted to get pass this "Mad Englishman" but Nick's rucksack was impossible to climb over.
I was, as only good friend would be, obviously being very helpful….
"What are you doing?"
"You are kidding me!"
"How much stuff have you got?"
I also reminded Nick he was "Representing the Queen" and that this was "Embarrassing".
Nick then scooped everything up, holding his toiletries in one hand to close the gap with the people in front.
As you can imagine though stuff was falling on the floor as he shuffled up.
Five times he repeated this as we got closer to the check point and he realised he still had toiletries in his rucksack.
I only wished I had videoed it. The scene wouldn't have looked out of place in a Laurel & Hardy film.
At every time Nick repeated this the more I laughed and tears were rolling down my face. In contrast the Italian chap was clearly becoming more annoyed.
Nick though was relentless in his quest! Various bits of food were found & oversize toiletries were thrown away.
Eventually, we arrived at the check point. Nick was given a clear bag from a nice sympathetic Customs Officer for his few remaining 50ml toiletries.
He still managed to set the alarm of at the bag search and various items of food and toiletries were taken off him.
Finally, we were through customs and Nick was able to purchase various items at Boots before having a well earned coffee.
Sadly the Italian chap was on another flight as I was really hoping he was seated next to Nick.
PART 2: The Pre Run
To my absolute amazement Nick was able to navigate the Italian travel system with the ease of a local who had lived there all his life.
Nick would openly admit he's not great with directions in England but take him abroad and he comes into his own.
I didn't have a clue.
Nick got us to the Expo in the middle of no where from the airport. He found the hotel and through out the weekend he never once got us lost.
We had to queue for over an hour to get into the Expo but it was well worth it. It was enormous filled with stalls selling running gear and food.
Nick had also booked a very reasonably priced hostel. It was clean, very friendly and close to the metro system.
On leaving the Expo we headed for the Coliseum.  Managed to get the last English speaking tour and it was worth every penny.
I had always wanted to visit the Coliseum and it was breath taking. Full of history and truly one of the Wonders of the World.
In the evening we had a pizza at s local restaurant before walking round Rome.
Got to bed late but it was an amazing day.
PART 3: Race Day
After a light breakfast and we put on our Roman Centurian  fancy dress outfits.
With Nicks short haircut he looked very distinguished.
On the metro other runners smiled and laughed. It was soon obvious that the Italians do not do fancy dress.
As we approached the starting pen the rain was coming down but it didn't dampen our spirits.
I made an unsuccessful attempt to get in with the elite runners…they just didn't take me serious!
A number of runners wanted their photograph with us.
The Italians looked very stylish in matching kit and track suits.
As the race started they they through of their kit over the barriers. I was tempted to pick it up as it was better than what I had!
In contrast most English runners had bin liners on.
The run took us through the streets of Rome.
The locals didn't particular watch and cheer but towards the end there were a few locals. I had to stop quite a few times as the locals wanted to take a photo with a singing centurion! I loved it.
Along the route we met a number of great runners. My favourite was a singing American who I spent many a mile as his backing singer.
I stopped off for a bit of shopping for my mum whilst running round and at at mile 20 as we went pass a ice cream shop we thought …"why not". The owner was quite surprised to see two Centurian runners and gave us a cone for free.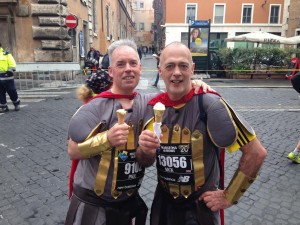 I even got offered a free meal at the end by one restaurant owner.
The best bit of the race was meeting a legion of Portuguese runners dressed as Centurians.
One was guiding a blind runner. Again we stopped and posed for photos with each other.
I really didn't want the race to end.
There's a great bit on the official video when I'm coming in and stop before the finishing line to video the centurions and they salute me back.
As I crossed the line Im not to proud to admit that I had tears in my eyes.
To me it signalled an ending of a chapter that had shown that "Fat Boys Can Run".
After the race we took in a few more sights before flying back home.
Part 4: The Aftermath
The Rome Marathon is easily my favourite race. I've got a number of brilliant photos and took a video of key parts of the race.
There was a great atmosphere amongst the runners and to start and finish at the Coliseum will take some beating.
It's also a great way to see Rome on a budget.
Certainly got home with a dose of the 'post marathon blues'.
7. Manchester 6/4/14
"Tell Them About The Honey Mummy"
Helped Gary pace at 5 hours before I do it on my own at Liverpool in a few weeks.
Manchester is now one of the top Marathons in the country and it attracts a lot of runners.
You start very close to Old Trafford Stadium and we had a good number of runners as we twisted and weaved through the City of Manchester.
I love Manchester it's a great place to live and is the home of some great bands.
It's also got a good and varied food scene.
After running a marathon I tend to eat ice cream or cereal and the cereal cafe in Manchester which serves cereal all day is a great place to chill out. There's 150 varieties but I still don't think you can beat Sugar Puffs.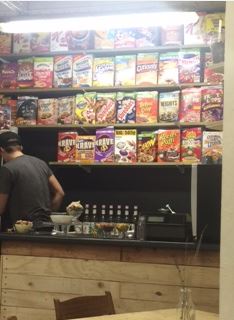 The pacer bus came in bang on time and I've put my name forward to pace next year
8. Stratford Good Friday Marathon 18/4/14
"You Can Do This"
Stratford Upon Avon is a beautiful location for a marathon and the Good Friday event certainly didn't disappoint.
There was a good crowd to cheer us off as we ran round the town centre twice before heading out to the Warwickshire country side.
The finish was in the major park by the Town centre and the Mayor presented you with your medal.
As I came in a fellow runner was really struggling to complete the last 100 meters and she was staggering all over the place.
As I passed her she was falling so I linked arms, encouraged her to finish and together we crossed the line. She explained that it was her first marathon and thanked me for helping her.
9. Valley & Views Northamptonshire 27/4/14
Worcester Sauce
Two races in a row I have got a sample of Lea & Perrins Worcester Sauce in my goody bag.
Begs the question why Lea & Perrins are targeting the running market….
Am I missing something?
Picture the scene in Lea & Perrins Boardroom.
Chief Exec: "Sales are down. We need to do something. Any ideas?"
Marketing: "It makes you run faster…let's give some samples to runners"
Chief Exec: "Make it happen".
So does it help with running? Should I get a bottle in? Do I need to have some before a race?
One thing I've learnt is that you can get some quite bazar things in a goody bag.
As for the run, I do believe it was a good run with terrific views but I've had so much Lea & Perrins  I'm drunk and can't remember a thing.
10. MK Marathon 5/5/14
John Wayne
Mental note to self don't do a very challenging 50 mile Spires & Steeples bike race the day before you do the MK marathon.
I'm walking like John Wayne as I line up on the start line.
Today I'm helping Gary pace at 5 hours.
Not the most interesting of courses and it's really hot, far to hot for running.
Nice to see a number of local residents cheering us on and a few with hose pipes hosed us down. There were also children with water pistols who were only too willing to squirt you with water. As the midday sun came out it was really welcomed.
Towards the end you run through a wooded area where the heat was unbearable. Concerning quite a few runners had collapsed with heat exhaustion.